Jim Watt is backing Darren Barker to beat Felix Sturm in Stuttgart
Jim Watt is backing Darren Barker to see off Felix Sturm in Stuttgart and bring his world title back home.
Last Updated: 06/12/13 5:40pm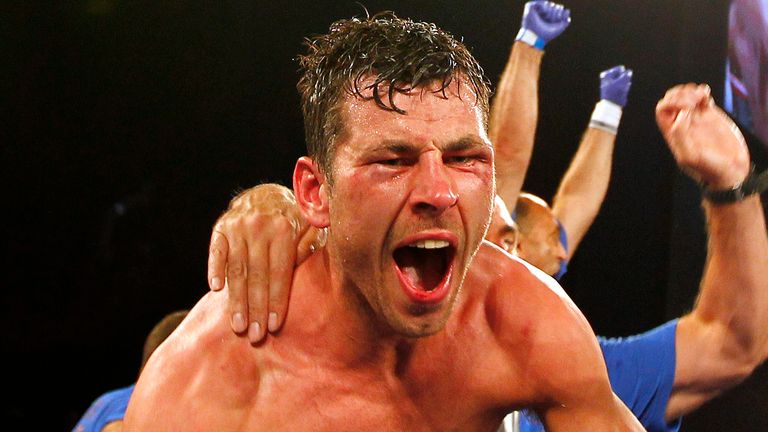 Quite simply this is going to be a tough, tough first defence of the IBF middleweight crown against Felix Sturm. The first one is always hard but, on top of that, the champion is taking on an experienced world title fighter in his own back-yard.
It might seem a strange decision to go to Stuttgart for his first defence but I think most people know the offer put on the table was too good to turn down. Darren has had a long, hard career - in and out of the ring - so who can blame him for cashing in.
And there is also a rematch clause so if the worst happens and he is beaten, he will get another chance.
Don't get me wrong, I am sure he would love to be defending the title back in London but don't forget he became a world champion away from home. Admittedly Daniel Geale was not at home either but it shows that Barker has got it in him, regardless of whatever people are saying about the judges.
There have been one or two strange decisions in Sturm's favour down the years, when he has won split decisions or been given draws when really he should've been beaten.
Hopefully Barker ignores the judges because he cannot afford to make them part of his plan. Wherever you are boxing you have to assume you are going to get a fair shake of the dice and you have to build your plan around your own strengths and talent.
Interesting
It will be interesting, though, to see what Sturm we get in the other corner, because in two recent fights - against Geale and Sam Soliman - he did not get given the decisions. Maybe Sturm's perception is that he's had too many favours down the years, so he might well change his style and do a lot more work.
I wonder whether he is going to try and set a higher pace rather than fighting in his usual bursts. That will make it a slightly tougher task for Barker - but it will mean we are in for a great night because these two will gel.
Traditionally, the one thing Sturm likes to do is box at his own pace and crucially will do nothing for the first two minutes of the round, then come up with great stuff in the last minute - and boxing at home you are more than likely to get away with that approach and win the round.
Against a world-class operator like Barker, all Sturm does is block punches; he's not a bob-and-weaver, he doesn't use great footwork to get of range or distance and dodge punches, he tries to come back with counters.
That in itself makes for good action but, as we know, Barker loves to zip in and out, putting combinations together and then getting out. He won't find it hard to hit Sturm and get out again and the challenger's style could suit him down to the ground. It will be easy for Darren to look busy all night long, because it's not dissimilar to what he does best.
I would ask him to start off fast as he always does but this time make sure he is aware of that last minute of the round, so he can deal with Sturm's burst - and counter. The pace is is the main thing that could decide this because even if the challenger comes in with a different style, the champion has already shown qualities we hadn't seen before.
Barker has always been a beautiful, smart and stylish boxer and he has maintained his lovely amateur style in his climb to the top but when he beat Geale to become a world champion he showed toughness we hadn't seen before - mental and physical toughness.
Impressive
He showed that mental side of it throughout the 12 rounds but in that sixth, when he was put down, he showed a physical toughness that was so impressive. I'll be honest and admit that once he had gone down I thought that was that, the fight was over.
But Darren got up, came roaring back, finished the round strongly and won the next one. So if there were any questions about him, they were all answered there and then. And he might have do the same again in Stuttgart, where there isn't a lot between them, that's for sure.
It is pretty much a 50-50 fight but the biggest factor could be what Sturm we get and what has that Sturm got left in the tank. If we've seen the best of Sturm, then Darren Barker will do the job no problem at all.
It is a tough one but I am leaning towards the world champion to win... on points too.