Tony Bellew might need a knockout to beat Adonis Stevenson, says Jim Watt
Tony Bellew may have to knock out Adonis Stevenson to win a world title in Canada, says Jim Watt.
Last Updated: 29/11/13 11:14am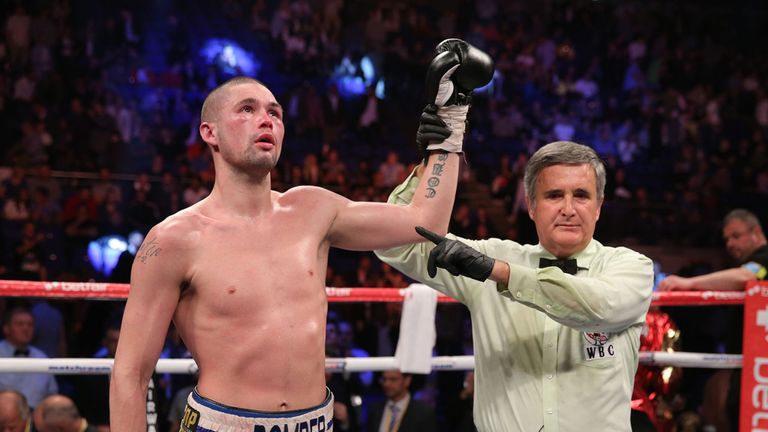 For Carl Froch, look at Adonis Stevenson.
We have a world champion who has established himself impressively and for George Groves, look no further than the lad from Liverpool, the young, upcoming fighter who is confident but hasn't really had the chance to prove it yet.
We don't want the same controversy we saw in Manchester but Bellew can take inspiration from Groves simply because when his big chance came along he performed way above anything he has ever done in the past.
And if Bellew can do the same then there is every chance Britain will have another world champion.
I wish we could sit here and talk about a big, big performance from Bellew that we can get confidence from.
It's tough enough fighting for a world title, it is even tougher going to fight in the champion's back yard and the one thing you need is confidence - and a big performance proves to you that you deserve to be there.
Tony doesn't have that but at least Groves showed it can be done.
He was a bit hesitant against Edison Miranda; he got badly cut early on against Roberto Bolonti and had to just worry about the win; and then, as the build-up to his world-title chance, he fought Isaac Chilemba twice, and he was just an absolute nightmare to box.
It's not been the best plan and it has not been anyone's fault but I just wish we could really admire Bellew's pedigree and world-title class as he goes into Stevenson's back yard.
Confidence
But there are still plenty more positives, don't worry about that. He is an exceptionally confident guy. He might have calmed down a bit in the build-ups but he can stare opponents down. He just looks ready and up for it.
We all remember the old Bomber Bellew when he would go off on one but once he started moving up the levels, he not only looked more mature at the weigh-ins and press conferences, he's also stopped trying to knock people out from the world go!
I wonder what the plan is going to be on Saturday night. We know Stevenson can bang, but so can Tony, so does he go toe-to-toe, or will he try and take him on at his own game?
There is also a sub-plot as well because Sergey Kovalev (27-0) is the chief support and HBO are introducing them both on the same card, so if they both win, they will match them up next. And that would be a match they can sell.
I hate to say it, but I am not sure that a points win is the best way to go about it for our guy; Canada doesn't have a bad reputation for bad decisions but if Bellew is going to come home with the world title thanks to the scorecards, he would need to win clearly.
So I would stay out of close-range and get that jab going early on because Bellew's - like so many - is under-rated and could be the key here, especially against a southpaw.
To make matters worse Stevenson is very, very good at leading with his left as well - and will be countering with it - so winning the jab is a must for Bellew. Tony is tall and stands tall and once he has got that jab working, he has to get on his feet.
Don't forget that Stevenson is not unbeatable, far from it.
Yes he stunned Chad Dawson and he out-classed Tavoris Cloud to really introduce himself but not that long ago he was flattened by Darnell Boone in the second.
Power
That alone suggests Bellew can knock this guy out and away from home it is the only certain way of winning, but I wouldn't go for it. In my view he needs to mix it up: get the jab going, break him down and then bring the power punches into play.
Bellew need to get a convincing points victory or a knockout if he is going to do it, but that is easier said than done. Stevenson used to be a super-middleweight that was moved up because he could bang, but in two fights he has become a superstar at light-heavy.
Blasting out Dawson was one thing but against Cloud he looked so at home, so comfortable, and such an established world champion.
Canada have already taken to him so let's see if Bellew can can upset the odds and be the latest underdog who has impressed him - and let's hope this one wins the world title.
I would love to see him knock Stevenson out, because that is the best bet. I don't think anyone goes in there looking to do just that because that leads to mistakes.
But it is so similar to Groves that I want to see Bellew land a big shot, preferable a right, early on. Two in the first round would be even better! He has to show the champion he can't do what he wants.
You have to say that Stevenson is the favourite and I think there is too much in his favour for Bellew to come home with a world title. I am not sure he is going to get knocked out, but I just can't see him springing a surprise.
Mind you, we were all shocked last Saturday!