Gennady Golovkin will defeat Matthew Macklin, says Jim Watt
Power puncher Gennady Golovkin will end Matthew Macklin's world title dreams, says Jim Watt.
Last Updated: 30/06/13 1:10pm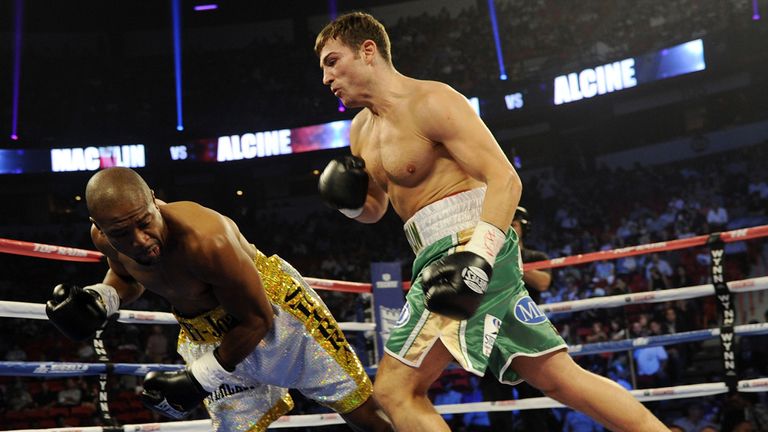 I'm delighted to be Stateside for this one as it's a fight I really want to see, but, unfortunately for British and Irish fans, Macklin's Kazakh opponent looks like a star in the making.
Macklin has perhaps proven himself at the very top level more than Golovkin, showing in his defeats against the two best fighters in the division, Sergio Martinez and Felix Sturm, that he can compete with quality
He will have learnt lessons and taken confidence from those experiences, but Golovkin, who has 23 stoppages in his 26-0 record, has shown he is a very talented boxer.
He was an excellent amateur and has taken those skills into the professional ranks where he has built his reputation on the big-name fighters who have avoided him.
He can box on the front foot, he can counter-punch and he has tremendous power; he's ploughed through everyone he's been up against and no-one has even taken him the distance for five years.
The WBA and IBO middleweight champion deserves to be favourite for this one and all his attributes suggest he will have a little bit too much for his challenger.
War
So what will Macklin's approach be? He certainly won't be reckless like he was against Sturm because he has to respect Golovkin's power.
Instead, I suspect the Birmingham man will employ the same approach he used against Martinez; I thought he was terrific in the early stages of that bout, using his skills, moving his head and deploying raiding attacks on his opponent.
However, sooner or later it is going to come down to a real war; Macklin may try to box his way around the ring in the early stages but he has to go out and get the title and drag Golovkin into a battle as this, after all, could be his last chance to win a world belt.
We know Macklin can do the business in those situations and he's been to places Golovkin has never been - we've seen Macklin in some real tough fights and there's no doubt he knows how to dig in and get something out of those exchanges - but the US-based fighter has real force in his punches.
Golovkin will begin by trying to put Macklin on the back foot to negate his power; the champion should - and will - have a lot of respect for Macklin's ability and punching power because the former European champion has a couple of quick wins against decent opposition himself.
Trouble
Last time out he stopped Joachim Alcine in the first round and he's dished out similar treatment to the likes of Anatoliy Udalov and Amin Asikainen in the past.
That's what makes it a good match: Macklin has the power to trouble Golovkin and it wouldn't be the biggest shock ever if Macklin hurt him early on.
However, although Golovkin's chin hasn't been tested like Macklin's has, he looks to me like he can take a shot, and I think this is going to be a really tough challenge for the challenger.
I'm expecting a Golvokin victory; It could go all the way but Macklin is going to have to take big chances and go out and get this title, so, the longer it goes on, the more adventurous Macklin will have to be.
Against such a ferocious puncher, though, I wonder if that will be his undoing...