Jim Watt reflects on Chad Dawson's defeat by Adonis Stevenson
Jim Watt says Adonis Stevenson's punch left Chad Dawson out on his feet - and rightly beaten again!
Last Updated: 19/06/13 9:40am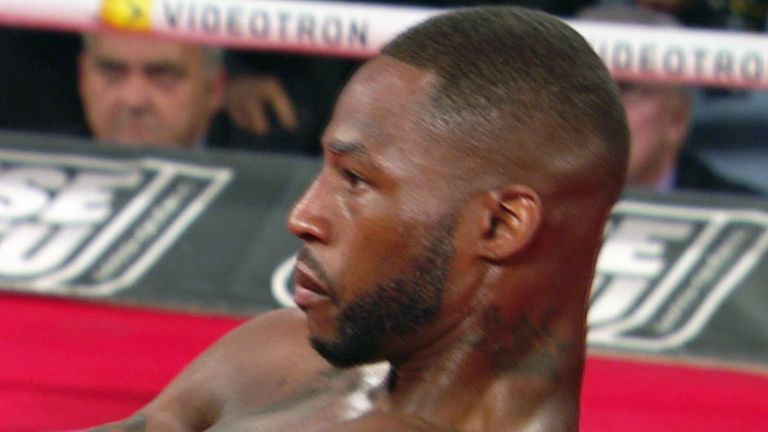 The man who calls himself Bad was floored by a left hook from Adonis Stevenson, who is now the WBC title-holder after making a step up from super-middleweight.
With the shot coming exactly one minute into the contest in Montreal, Dawson got to his feet before the 10 count was up.
But referee Michael Griffin waved him off after a closer inspection - a decision which drew criticism from Dawson and his trainer Eddie Mustafa Muhammad after the fight.
Watt is in no doubt Griffin made the right call, one which sent Dawson to a second successive loss on the back of defeat to Andre Ward.
"Dawson can't make excuses for coming down like when he lost to Andre Ward," said the Sky Sports co-commentator.
"It was just a tremendous punch that would have knocked most light-heavyweights out.
"It was a corker and as soon as Dawson hit the floor I knew it was over. You could tell; he looked like he was in a trance, he didnt know where he was.
"When he stood up his legs were hardly aware, his hands were down by his sides when they should have been in the boxing position. The ref had one quick look and called it off - quite rightly so."
Aggressive
Watt was full of praise for Stevenson, who now looks like defending his newly-gained belt against mandatory challenger Tony Bellew.
The Canadian puncher has now knocked out 18 of his 21 victims, the previous 20 coming in the super-middleweight division.
There were concerns over whether Stevenson's power would move up with him; with those doubts dismissed, Watt believes he might well be a superstar in the making.
"It's the left hook from that southpaw stance that causes the damage in all Stevenson's fights," said Watt.
"It wasn't just the one shot, he'd got a couple of shots on target already.
"Dawson used the aggression we don't normally see so perhaps he had a point to prove - that he was still the best light-heavyweight in the world.
"You have to congratulate Stevenson. He stepped up into a weight division, he took a major step in class and gave us a terrific shot - and a terrific result."