Darren Barker can step closer to world title shot with win, says Jim Watt
Jim Watt wants Britain's middleweight marvels to clash - and expects Darren Barker to shine on Saturday.
Last Updated: 10/03/13 11:16am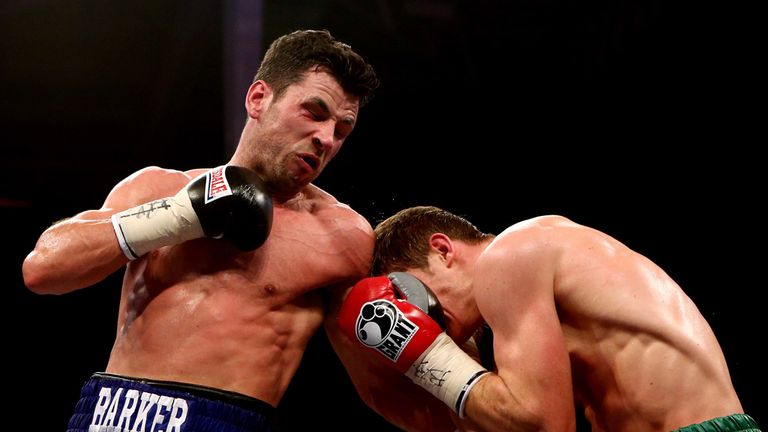 Barker produced a tremendous performance against Kerry Hope and it would be great to see him hit those levels again on Saturday night against Simone Rotolo.
Hope is not a world class opponent but Barker was exceptional against him; before the fight we expected Barker to win on points but going the distance clearly wasn't in his mind and he set about his task in a manner we've never seen him employ before.
That was his first fight back after a long injury lay-off but it was clear he'd taken a lot of confidence from his bout with the best middleweight in the world, Sergio Martinez in October 2011.
Although Barker lost that fight, he held his own for the first half of the contest and now knows he can mix it at world level.
His ambition now is to get back to fighting for a world title and an impressive win over the Italian champion Rotolo will move him further down that path.
However, the middleweight division is extremely competitive at the moment - even domestically, we have some great fighters at that weight.
Nudges
There is plenty of discussion going on about which British boxer is the best at 160 pounds, with Barker, Matthew Macklin and Martin Murray all vying to be recognised as the best from these shores.
Personally, I feel Macklin, on recent form and results, is ahead of the other two. It's a toss-up between the other two, although perhaps Barker's two spells as European champion just nudges him ahead of Murray.
But it would be great to see that debate settled in the ring. What a series that would be - two fights, with the winners meeting in a final. That would be fantastic, let's hope it happens.
Although, with all three men believing they deserve a world title shot, we may have to wait a while before they agree to a domestic bout - and Barker should take another step towards that world title shot with victory against Rotolo.
His opponent is a decent fighter, with just three losses on his record, although two of those were down to injury so, in effect, he's only lost once - and that was a controversial split decision defeat to Sebastian Sylvester.
So Rotolo is not going to be a walkover. He's 37 now, which suggests if he was going to do anything at world level he would have done it by now, but he brings experience to the ring and Barker will have to be on his game.
Champion
I expect a points win for the Barnet man, though; I don't think he'll be able to stop Rotolo, but the Italian has been halted by cuts a couple of times and with the way Barker is throwing punches at the moment he could open him up.
Also on the bill on Saturday night will be Commonwealth super-middleweight champion George Groves, after the London fighter signed for Matchroom this week.
His fight with Dario German Balmaceda has been quickly arranged and he should win comfortably but it will be good to see him in action again and I'm glad he's back on Sky Sports.
He's got a huge future and there's an edge to his boxing that makes him an exciting fighter to watch; when the red mist comes down and he lets the punches go he can produce terrific fights.
I think he's returned to Sky Sports just in time for us to see him step up and make waves in his division.