Jim Watt doubts whether Gavin Rees has what it takes to defeat rising star Adrien Broner
Jim Watt doesn't expect Gavin Rees to upset the odds against world champ Adrien Broner in Atlantic City.
Last Updated: 17/02/13 12:49pm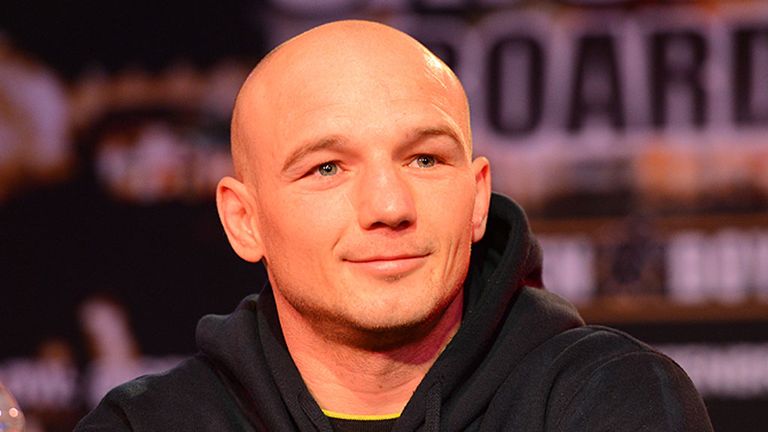 At the age of 32, Rees travels to Atlantic City in an attempt to join Broner as a two-weight world champion (having previously held the WBA light-welterweight strap) - but he goes in as underdog.
People are looking at 23-year-old Broner as the next big star of boxing so he was always going to be heavy favourite. He's still a developing fighter and is going to get better, so Rees has caught him early, at least.
The big question is 'does Gavin Rees deserve the title shot?' and the answer is definitely 'yes'. He's had a long, long career, only one defeat in 39 fights and is a former world champion at the weight above.
He has been a professional for over 14 years and has fought at the top level. You've got to give him a chance. He knows he's not favourite - and he'll admit that himself - but that won't trouble him.
I think Rees has a great temperament, too. He strikes me as the kind of guy that doesn't let things get to him ant that's crucial when you're boxing abroad against a fancied opponent.
He's also gone to the States in plenty of time, which suggests he gives himself a chance. If he was just going for the pay day then he might go over later but he clearly wants to get himself properly prepared because he thinks that he has a genuine shot of winning this.
The reason Rees won the title at light-welterweight was that he copes well with people bigger than him - he's developed a style to counter his lack of size. He has a deceptively long jab in that he steps in with it rather than throwing it from range; he moves forward with the jab and that gives it surprising length.
He has a style that would give 'smooth' boxers problems, as 'smooth' boxers like to do things at their own pace. Fighters like Floyd Mayweather Jr don't like pressure. Rees can at least give Broner a real test and create some problems.
That being said, I can't really make a case for Rees winning this fight because I do think Broner is a special talent. I think he's going to be a terrific fighter.
Boxing has to provide entertainment and fighters like Mayweather and Broner make the headlines with their mouth as well. I always admire a fighter who puts himself on the line, one that says what they're going to do with opponents and then stepping up and doing it. That's what Broner's been doing and he hasn't come a cropper yet.
If you have a brash young fighter, with a big mouth and who's backing up what he's saying then you can't complain about it. It's about the television money too with the pay-per-view these days, so getting yourself known is important.
Needle
With regards to report of genuine needle between the pair, I don't see much truth in it. They'd probably never considered each other before this fight was made! It's not like Benn and Eubank where there's a long, brooding rivalry between them. I think they're both sensible professionals and they both know what's required.
Rees is going to fight one way, get on Broner's case and work him to the body with those shots he throws so well. He'll be trying to work that body to take the steam out of Broner's legs and then see if he can capitalise on it.
There was talk from some quarters that Broner was already eyeing bouts with Juan Manuel Marquez and Ricky Burns, therefore looking past Rees, but again that's probably not the case. Usually fighters will talk about future opponents because the press have asked about them.
Home glory
On another note, I thought Carl Frampton was terrific in stopping Kiko Martinez for the European super-bantamweight title on Saturday night. It was a great night in Belfast.
We've been expecting big things of Carl but he's had things pretty much his own way since he turned pro so you can't really judge him as a fighter, but on Saturday night he ticked the rest of the boxes that needed ticking.
He was under constant, intense pressure because Martinez was terrific - maybe a bit basic technically but terrific with the pressure nonetheless. I thought it was just a great performance from Frampton.
With Frampton and Scott Quigg, it's a fight you can top the bill with. They'd both get well paid for that fight and it's one that the British public want to see. It's a tough division at world level so you want Frampton to make sure he's 100 per cent ready first.
You don't want to make a world title fight just because you can; you want to give yourself the best chance of winning it, so more of these fights along the way can only help.
From Quigg's perspective Frampton is getting all the glory at the moment and he'll be a bit miffed about that. It's a fight that Quigg needs.
It's a bit frustrating in the middleweight division that the top boys domestically - Darren Barker, Martin Murray, Matthew Macklin and Andy Lee - are not fighting each other, so let's hope we can start getting these kind of bouts together.