Carl Frampton can beat Kiko Martinez in Belfast, says Jim Watt
Ever-improving Carl Frampton has the skills to win the European title this Saturday, says Jim Watt.
Last Updated: 09/02/13 10:13am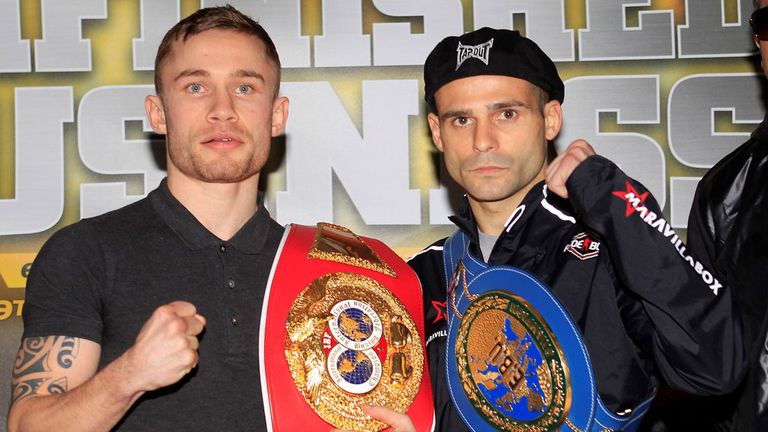 Martinez has twice pulled out of this match-up in the past and, although that would have been frustrating for the challenger from Northern Ireland, the fast-developing Frampton is a far better boxer now than he was when they were first scheduled to meet.
This, though, is going to be a huge step in Frampton's career and quite a dangerous match-up for the 25-year-old, nicknamed 'The Jackal'.
Martinez is an established champion who knows what it takes to fight through the championship distance and he's never been stopped, which shows his toughness.
The 27-3 Spaniard has also built up a reputation as a big puncher and, although that has perhaps been a little exaggerated by his first round knockout of Bernard Dunne in 2007, this will be a dangerous assignement for Frampton.
However, ability-wise Martinez seems to be a somewhat limited boxer who struggles to adapt to situations in the ring; he's lost twice to Rendall Munroe, which isn't a disgrace, but Martinez struggled with Munroe's southpaw style and showed he can be out-boxed in those fights.
Technically Frampton is very good and is fast becoming a complete little fighter; he can box off the fornt foot, off the back foot and defensively he's good, too
Tactically he's good, he's disciplined and he's shown he can carry out the corner instructions so, on paper, he should be able to cause Martinez some problems.
Frampton is also improving all the time, as he showed last time out when he extended his record to 15-0 by stopping Steve Molitor in the sixth in September.
Martinez has recently changed his trainer, which will give him a lift, but I still expect Frampton to win comfortably - but not easily - on points.
Engage
However, there may be a few scares along the way for the Belfast boy.
Boxing in front of his home crowd, I'm sure Frampton will want to put on a performance, make it exciting and engage with Martinez.
He won't want a conservative, long-range fight, though, as that will give Martinez opportunities but it should be an entertaining 12-rounder.
If Frampton does prevail it will be interesting to see what he does next; there is a potential all-British affair with Scott Quigg but there has also been talk of Frampton targeting a world title shot in the next 12 months.
Frampton isn't a kid, although he hasn't been a pro long, and he's very level headed and mature so you could take a chance on him in a world title fight - you know he's not going to collapse and fall apart.
It's a tough division at world level and, given his temperament, if you were to put him in and he lost I don't think it would have any lasting effect.
But you want to keep the ball rolling, you want him winning the world title at the first challenge - and victory on Saturday night would be another step along the path to that world title shot.