Jim Watt on Carl Froch v Mikkel Kessler, Prizefighter and Kal Yafai
Jim Watt looks forward to seeing a rising star this weekend and says Froch-Kessler II will be a classic.
Last Updated: 30/01/13 9:01am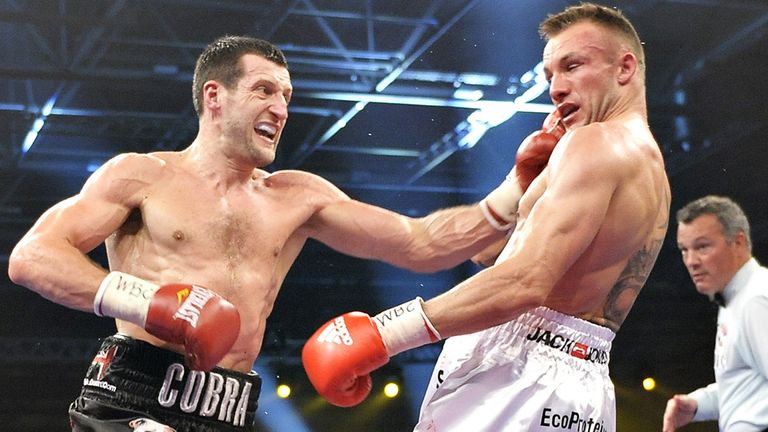 The Dane is one of just two people to have beaten Froch in his career and it seems the Nottingham fighter will get the chance to address that blotch on his record in the UK this spring.
It's a terrific match up and once again you have to give full credit to Froch, who has spent the past three years fighting the very best in his super-middleweight division.
He had a bit of a tool-sharpener fight against Yusaf Mack towards the end of 2012 but generally he's now just on the lookout for big fights - and they don't come much bigger than a rematch with Kessler.
Their first contest was a fantastic fight and Kessler was a worthy winner - but Froch is a better boxer now and that, combined with the fact the rematch will take place in his country, just gives the Englishman the edge in my opinion.
Both fighters are coming off impressive victories - although Froch told Sky Sports he was taking some of the credit for Kessler's defeat of Brian Magee because he shared a few tips about how to oust the Northern Irishman with the Dane, a man with whom he shares mutual respect outside the ropes.
But come fight night Froch won't be offering up any favours; he wants to rebalance the scales and, if he does a job on Kessler, I expect he'll go after Andre Ward as well, the other man to tarnish his record.
Froch is boxing better than ever and he's showing no signs of physical deterioration. However, he's 35, he's had a lot of hard fights in the last few years and he will be aware his time in the ring is coming to an end. He will want to go out on a high and a victory over Kessler and a rematch with Ward would be the perfect way to round off a fantastic career.
I just wonder if the new, full-of-confidence, attacking-style of Froch will play into his hands or Kessler's because the Dane is a terrific fighter and someone who is a terrific technician and superb counter-puncher.
It's going to be an intriguing contest.
Prizefighter
But there's some exciting action in the ring this weekend, live on Sky Sports, with Prizefighter Welterweights III.
When Prizefighter was first thought up it was about young fighters making their mark over a three-round distance. That's changed over the last couple of years and we've had former British champions and even people who have challenged for world titles in the mix. But this one has gone back to the beginning and has a lot of young kids in the early stages of their career going head-to-head.
Experience-wise the outright favourite will be Mark Thompson (24-2). The draw has been kind to him; he's been selected for the first quarter-final against Rob Hunt and historically people from the early part of the draw win the events. He's a fast starter so the three-round distance shouldn't affect him and, if he strikes top form, he should win. But how many times has an all-out favourite bitten the dust in Prizefighter?
There's a possibility that could happen here because there's a good mix of fighters, including a couple of good punchers, which will add to the excitement, and I think we're in for a good night. I'm certainly looking forward to it.
Rising star
We'll also get to see Kal Yafai in action again this Saturday as he headlines the same bill as Prizefighter.
Kal (6-0) looks like a tremendous talent and is one of Britain's brightest prospects. He'll continue his development this weekend against Mexican Gonzalo Garcia.
With young fighters like Kal you want to see him given good matches. You know he's going to be matched to win but you don't want blast-outs, you want opponents who will make him work for victory so he develops his skills and his management seem to be doing that.
In a couple of his fights he's had some tough rounds and there's always a danger you can rush a fighter - but it wouldn't surprise me if, towards the end of the year, we're talking about him getting a British title fight.
He's in a good division with a few fighters above him he can target and I think it's going to be a big year for him. He's a special talent, he's very mature and I don't see any weaknesses so far.