At the crossroads
Amir Khan's career is on the line against Carlos Molina, says Jim Watt - but he expects the Brit to win.
Last Updated: 13/12/12 1:09pm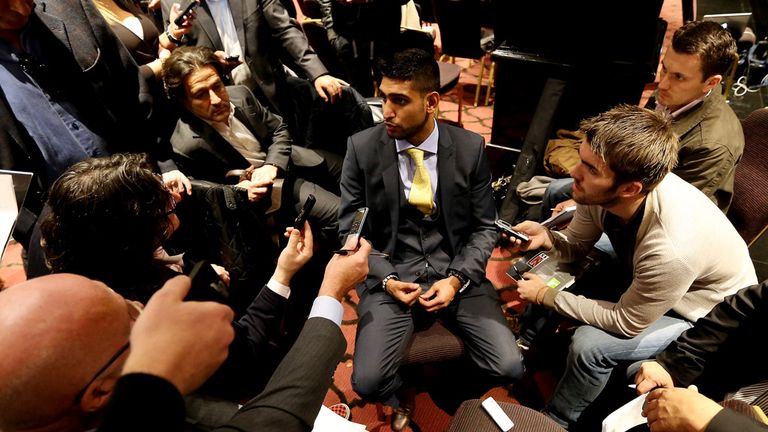 It's fair to say Amir Khan's career is on the line against Carlos Molina this weekend.
He was heavily favoured to win his last two fights, against Lamont Peterson and Danny Garcia, but he lost them both.
The post-fight drugs charge against Peterson and the two-point deduction against Khan during the bout tarnished that result and Garcia has subsequently proved he is the real deal by stopping Erik Morales. So Khan has a story, a reason or an excuse - whatever you want to call it - for losing his last two. But he can't afford to lose this one.
All the advantages are with Khan going into this fight. He's a former world champion in the 10 stone division and he's beaten a lot of good fighters. Molina, meanwhile, hasn't been proven at the top level, he's coming up from lightweight and isn't a dangerous opponent as far as punching power goes.
Yes, Molina's undefeated, respected and a decent fighter with a good style but, all in all, you have to say Khan's people couldn't have come up with a better opponent for him to launch his return to the top.
The bottom line is Khan's a better fighter than Molina. Unfortunately his career has turned with those last two defeats and the pressure is on him to win and win well on Saturday night. If Khan loses then it will be a long road back and I don't know what promoter would want to accompany him on that journey.
Fighters can always re-establish themselves after defeats but I don't know how Khan could do that if he loses this one; there would be no excuse for this loss. He's been in some really good fights since he moved to America and teamed up with Freddie Roach and we've seen some terrific performances from him but if he loses this one he will lose most of his appeal. He has to win and look good.
Change
In response to those back-to-back defeats, he's left the care of Roach and gone to work with Andre Ward's trainer Virgil Hunter. Roach did a terrific job with Amir and there's nothing wrong with him, but Khan couldn't be number one in the stable with Manny Pacquiao and Julio Cesar Chavez there. He was having to go to the Philippines to train, which isn't as it should be done.
Khan isn't the number one fighter in Hunter's gym, either - that's Ward - but the gym isn't as busy and he's able to get the one-to-one attention any top grade fighter requires. I look forward to seeing what affect the move has had on him.
He won't be a completely different fighter to the one coached by Roach, but I expect to see a different approach in his boxing. I think they'll cut down on his work rate because you can't think at the pace Amir has been fighting recently - he throws punches faster than he thinks, so obviously he makes mistakes.
I suspect on Saturday, when he goes to work, he'll still want to use the speed, reflexes and the combinations he's mastered but hopefully he'll take his time and not try to counter-punch every time the other guy throws something, which is what he tended to do.
Talent-wise Amir is at least as good as anyone in the division. The reason he's lost his last two world title fights is because his tactics have let him down, not his ability.
It's fair to say his chin let him down against Garcia but there were plenty of warning signs before the big punches which stopped him. If he'd taken those warnings on board and adjusted his style and tactics then he would have won; he was clearly out-boxing Garcia before that.
He needs to start thinking his way round a fight rather than just letting things happen and I hope we see evidence of that new attitude on Saturday.
Opportunity
For Molina, meanwhile, this is a huge opportunity. He'll know if he can get a win then all the doors will open for him. He's going to have to come up with something he's never come up with before, though.
In the past he's been solid, but we now need to see if he can mix it at the top level; this is his acid test. I don't think he's good enough to go and challenge for world titles but he thinks he is - and that's more important!
He won't have size on his side, though. A step up to light-welterweight would be the natural progression for a fighter struggling to make the lightweight limit but Molina isn't a huge lightweight - he's moving up because of this opportunity.
From the weigh-in Amir will put on a fair bit of weight before the first bell and Molina won't, so he'll be giving away a bit on the night which makes his task even harder.
Given that, and the fact Khan is a better, more experienced fighter, I'm pretty sure the Brit will win this one.
I expect Khan to put the kid under pressure he can't cope with and stop him in the last third of the fight, shortly after the eighth round. Then he can consider what his next step will be on the path back to the top of the sport.