Darren Barker must win on Saturday to keep hopes of return to world level alive, says Jim Watt
Jim Watt says injury-plagued Darren Barker must win on Saturday to keep his world title dream alive.
Last Updated: 07/12/12 3:13pm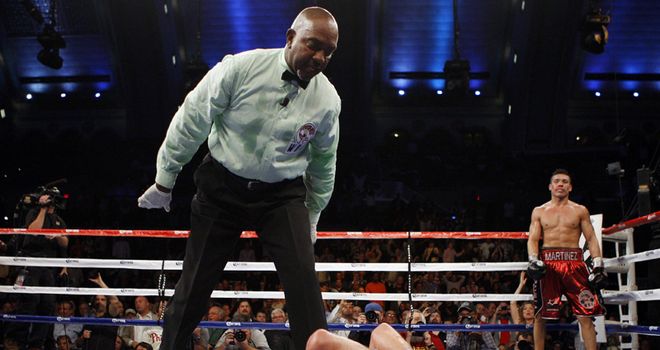 Barker got a taste of the big time when he fought Martinez for The Ring middleweight belt in October 2011 and he came out of that fight with a lot of credit, despite being stopped in the eleventh. He boxed well for seven, eight rounds but then Martinez moved up a gear and took it away from him.
It was a performance we were looking for him to build on but, unfortunately, a string of injuries have prevented the former British, European and Commonwealth champion from doing that.
Over the last year or so he's been dogged by fitness problems which have ruined his career - he's not been able to build any momentum since that Martinez fight.
There's nothing worse as a fighter than putting your life and your work on hold to concentrate on a 10 week training camp and then find, six weeks in, you're having to call off the fight because of injury. It's so frustrating and it costs you money, as well.
He'll be delighted to have got through his training camp for this fight unscathed and will know he now needs to defeat Hope if he wants another crack at a world title - he can't afford any slip-ups on Saturday night. We'll be able to judge whether he can get back to that level after the fight.
The Martinez fight gave him a lot of confidence, though, and you can see that in the way he talked and acted when matches have been made for him since that bout. He's proved to himself that he can mix it at world level and that's very important. To have that confidence is a huge step - now he just needs his body to be tough enough to bring him through.
This will be a good match for him. Hope shocked everybody when he won the European title by defeating Grzegorz Proksa in March. When you look at the depth of talent in the middleweight division - Matthew Macklin, Martin Murray and Billy Joe Saunders are all at this weight - then you wouldn't have given him any chance of becoming European champion, but he jumped the whole queue.
The fairy tale ended with a return match with Proksa but he proved, with a couple of good performances on the trot, he can do it and he now commands respect. However, you have to think Barker is the classier operator of the two.
Physical
One of the things that concerns me about Barker, though, is his stamina. There have been a couple of fights where he's won but his last six rounds were nowhere near as good as his first six. Considering the physical problems he's had over the past year and the fact he's facing a guy who can keep coming at him, he needs to have addressed that.
But despite that worry, I still fancy Barker to win this one on points. He's so well-schooled. If you were going to start a young kid off in boxing you'd show them Darren Barker boxing because everything he does is textbook; he's upright, his foot movement is excellent and he puts good punches together.
It will be a good match, one Barker's expected to win and one he must win. I'm looking forward to seeing how it comes together for him.