Carl Froch has too much for Yusaf Mack, says Jim Watt
Carl Froch can look ahead to some intriguing rematches after dispatching Yusaf Mack, says Jim Watt.
Last Updated: 15/11/12 10:11am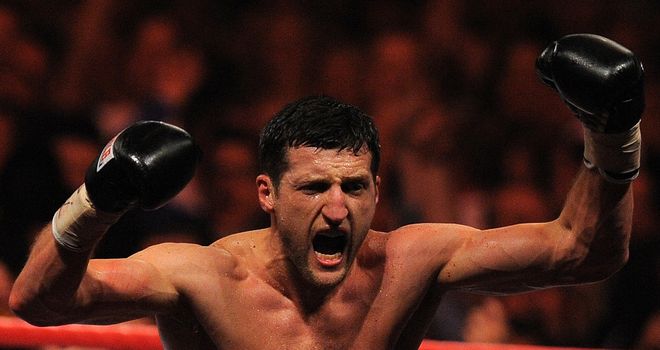 When you think about what Carl Froch has been doing over the last number of years, fighting his way through the Super Six to the final, fighting, without doubt, the best in the super-middleweight division, and then, in his first bout after the series going in with Lucien Bute, who a lot of people at that time were thinking could have been the best of the bunch, whatever he did next was always going to be a slight step down in difficulty.
He's fought everyone in the division so, apart from going up to light-heavyweight, there's nothing else he could do. He's facing a man who has been boxing at light-heavyweight and it's a good choice of opponent. We're used to seeing Carl in really good fights and Mack will make a really good fight.
Obviously we have to accept the fact Froch is a better fighter than Mack - a considerably better fighter - but you're going to be saying that about whoever Froch faces, unless it's a return with Andre Ward or Mikkel Kessler.
Already a lot of us are looking beyond this fight to his return with Bute, but Carl is experienced and knows he can't afford to do that. He's given Mack a huge opportunity which Mack wasn't expecting to get. It's a challenge at a world title and Mack is going to give it everything he's got.
Mack has been stopped four times, but he's always been stopped in good company and in some of those fights he was doing well points-wise. He's got an exciting style, he takes chances and that's what makes it an interesting match.
Mack can certainly punch, he moved up to light-heavyweight because the super-middleweight division was so tough, so he's not like a light-heavyweight who's going to be weight-drained when they bring him down. He'll be strong at super-middleweight, he's got a respectable knock out ratio and I'm sure we're going to see some good action as long as it lasts.
However, the longer it goes, the more Froch's strength and class will take over. I can't make a case for Mack winning this one. I expect after the halfway mark Froch may start to hit him too often and stop him.
Froch will no doubt be backed by a passionate home crowd once again, just as he was when he defeated Bute. However, this could be the last time we see Froch fight on these shores for a while as he has some big rematches in the pipeline for 2013.
Froch is 35-years-old now and, although he doesn't appear to show any wear and tear, it is time for him to be looking at big financial fights - he's certainly earned them. Challenges are all very well and good but now he's got to think about the future for his family and himself. If the way to secure the big purses is to go elsewhere then that's what Carl's got to do.
He's really well-appreciated over in America, too. I remember speaking to the HBO crew a while back and they were saying to me 'who is the best known fighter in Britain?' I said 'it's probably David Haye' and they couldn't believe Froch isn't a superstar over here. They said 'send him over here, we'll have him!'
He has a big reputation in America, he doesn't have to convince them of his talent. They've taken him to their hearts. There's a rematch with Bute in Canada but after that I wouldn't be surprised to see him fighting in the States.
A return match with Kessler would probably be the best fight now for Carl (although I'm not sure if that would be Stateside). Carl's legacy is secure and although it may annoy him he's not looked upon as the best super-middleweight fighter of his era, few British champions have fought at the level he has. Having defeats to Andre Ward and Kessler on your record is no disgrace.
But, while the Super Six took something out of the fighters involved, it put something into Carl Froch and he's a better fighter today than he was the last time he fought Kessler. It would be good to see that fight made.
First, though, Carl must defeat Mack on Saturday night. And I've no doubts he will.