Eyes on the prize
Jim Watt tips Gary Sykes to win Prizefighter, but says it will be tough with three ex-British champs on the card.
Last Updated: 04/10/12 5:37pm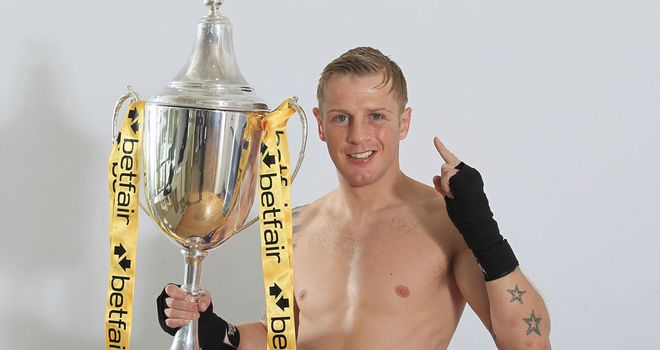 We have three ex-British champions on the card at this weekend's Prizefighter and it promises to be a fantastic tournament.
More often than not the favourite loses along the way and we get an unexpected winner which adds to the excitement, but I think that it will be one of the favourites that wins this one and, for me, it is between Gary Sykes and Anthony Crolla.
It is a difficult one to pick but Sykes throws a lot more punches than Crolla and he has a terrific engine; I know he had a total disaster the last time he took part in a Prizefighter tournament and got knocked out.
But he is well-equipped for the Prizefighter series; he is very quick, has a good engine and he is capable of winning the three fights to win this title.
Sykes normally gets off to a flying start and in Prizefighter one of the keys to winning the whole tournament is to win the first round of every fight. You want to get the first round in the bank; you don't want to chase the match.
Even when he is fighting 12-round fights he gets right down to work in the opening round and that is probably the reason that he got knocked out by Gary Buckland.
Sometimes the fighters go into Prizefighter thinking too much about work-rate but you have to use your skills and think about your defence. I don't think Sykes was thinking about his defence against Buckland - but I am sure that he will have learned from that.
Impression
Crolla has a good work-rate as well but I just feel he has to change it a little bit.
He marches straight forward behind a high guard, blocking punches rather than slipping them and that can give the impression to the judges that the other guy is the busier, which could cost him against Sykes if the two meet.
Over 12 rounds I would probably fancy Crolla but although he has a great chance of winning this he has to rebuild his way after his disaster against Derry Mathews.
You must always give Mathews, who fought brilliantly in his last fight against Gavin Rees, a chance, so it is not easy to pick between the three former champions, but between Sykes, Crolla and Mathews, I am leaning very slightly towards Sykes.
For the winner, a British title fight will be next on their radar.
Sykes and Crolla are in their twenties so they will both still be hoping that they can go beyond domestic level - but they have both lost that stage before so they have got to get their hands on a domestic title and then move forward.
Looking at the rest of the field, I think there is a big jump in class between them and Mathews, Sykes and Crolla.
But being a British champion is no guarantee to winning this thing - Danny Williams was British champion when he entered, as was Sykes, and they both lost.
We have some classy fighters and even among the kids who are unfancied there are some lovely boxers and a couple of undefeated fighters as well, who may may feel the three-round format will suit them.
It really levels things out for the less experienced fighters and it is what causes the upsets and gives everyone a chance. There is always a terrific atmosphere at Prizefighter and it promises to be another great night.