Big time beckons
Jim Watt is expecting Carl Frampton to announce himself on the world stage with a win over Steve Molitor.
Last Updated: 21/09/12 2:29pm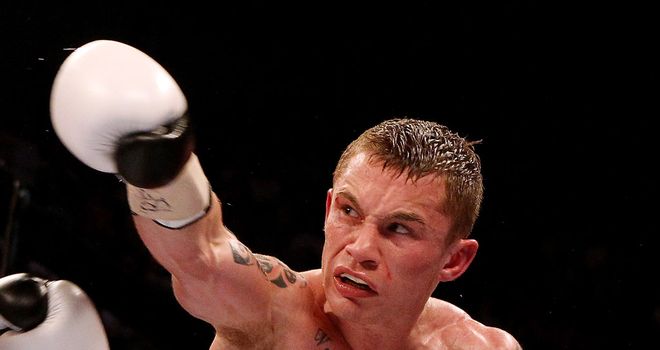 This is obviously a step up for Carl Frampton when he takes on Steve Molitor on Saturday. Molitor is a man who has fought at world level and who has only lost two fights - both of them were world championships bouts.
However I think Frampton is the type of fighter you can move on pretty quickly. He is not a kid and has matured really well, he also has a very impressive amateur career behind him. He has been winning fights pretty convincingly and I think he will be able to handle this step up in class.
I think he can definitely box at this level and we shall see what Molitor has got left. Molitor is definitely not the fighter he was three or four years ago but he is still highly rated.
This fight came about when Spain's Kiko Martinez pulled out of the fight with Frampton and I think this fight is much more of a challenge for Frampton. Martinez is a big puncher but technically he's not great. I am pretty sure that Frampton would have outsmarted and outboxed Martinez but he's going to have to do a lot more against Molitor.
Molitor has also proved that he can travel - he has been over to Britain four times already and won them all. I think he will be quite confident that he can win again. I am looking forward to this fight and I think it will do Frampton a lot of good if he wins - which I am expecting him to do.
This will be a terrific scalp on his record and will certainly propel him onto bigger things. In his last two fights against Kris Hughes and Raúl Hirales you knew after a couple of rounds that Frampton was far better than them, however he just stayed at the same level and kept the fights under control. He eventually did stop Hughes but he just out boxed Hirales for the whole 12 rounds without putting on a real show that he could have put on. This fight is different as a win will get him noticed so the main thing for him is just to get the win. If he can beat Molitor and put on a show at the same time then that is a bonus but the main thing for him is to get the win.
Last chance saloon
Also on the bill is Paul McCloskey bout with Manuel Perez.
If McCloskey loses this fight then they cannot take him anywhere. You could call this his make or break fight and he really needs to perform. He had that heavy loss against Amir Khan last year and then had another loss last time out against DeMarcus Corley. Two defeats on the trot will not be good so it is up to him to really show us what he can do against Manuel Perez to re-establish himself.
He has lost both his fights at world level and there may be questions over whether he can handle that pace, so he is going to have a lot of pressure on himself. I want to see him go into this fight with a lot of confidence - he did not show that against Khan. In that fight he knew he was losing and he did not do much about it. They were saying that they were going to go for a big drive but if you are going into a world title fight you have got to be prepared to give everything you have got.
He looked flat against Corley too - fighters sometimes have those nights when things don't work for them and he seemed to have one of those nights. I did think he was still winning the fight on the number of punches he was throwing but there was something missing from him that night. He has got to put that behind him though and show us that it was just a little blip. I want him to be strong, confident and show us that he still has the hunger to chase world titles.
Fight of the night?
Lee Selby and Martin Lindsay's fight for the British and Commonwealth Featherweight titles could be the fight of the night and is good enough to top any bill on its own.
Selby has surprised us a couple of times so I don't think he will surprise us again as we know what he is bringing. This time last year Martin Lindsay looked unstoppable but then he lost the fight to John Simpson and his problem was that he was out toughed by Simpson. Selby had already stopped Simpson so I can see Selby bringing the same tactics that Simpson used against Lindsay.
Selby has a terrific will to win - I think Lindsay may be the more talented boxer of the two but on recent form I think that Selby is the favourite. He will set a frenetic pace and I see him nicking it on points.