Vegas or bust
Jim Watt says Amir Khan faces a critical moment in his career when he tackles Danny Garcia.
Last Updated: 14/07/12 2:01pm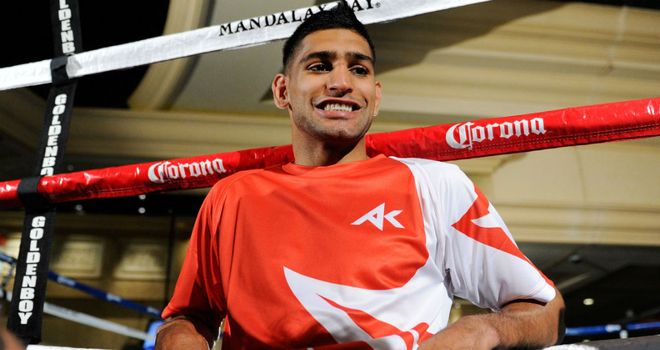 When Amir Khan steps into the ring to face Danny Garcia in Las Vegas it will be a massive moment in the Bolton fighter's career.
It is a huge fight and will have big implications for his future ambitions and, quite simply, he can't afford another loss. He wants to dominate the 10-stone division and then move up to welterweight where all the super fights are against the likes of Manny Pacquiao, Timothy Bradley and Floyd Mayweather Jnr.
He needs a terrific performance, a victory and then I would expect him to move up to welterweight and look for the bigger fights.
I can't think of any more fights at 140 pounds. We were really buzzed up for the return fight with Lamont Peterson because he won the first fight, but apart from Peterson, who is now off the radar, I can't think of another huge fight for him at level.
His future lies in the welterweight division - that is THE division at the moment - but what is the point of stepping up on a loss?
Aggression
Khan's style is pretty much set and I don't think he will do anything other than he normally does. He throws bursts of punches with plenty of movement and that is what he has to do.
He is good at taking the initiative in fights and getting punches off first, so expect him to impose himself against Garcia
Sometimes, though, a little bit of a macho thinking comes over Khan and he drops his hands. After years of being criticised for not being able to take a punch, he wants to prove to everyone that he can take a punch. And he does things he shouldn't do, giving his opponents a chance to nail him with punches.
But Garcia will have to take the fight to Khan. When I watched Garcia against Erik Morales he seemed to like to counter punch and box at a nice steady pace.
He didn't set a hot pace against Morales. Khan, though, boxes at a terrific speed and throws lots of punches, so if Garcia tries to counter punch against Khan he will come second.
All-rounder
Don't get me wrong, I have quite a high opinion of Garcia and right from his early career he looked like he was heading for stardom. He has done what is expected of him to get to the title with a couple of decent names on his ticket. But I just wonder if this fight has come a little bit too quick for him.
He took the title from an aging super star in Erik Morales but he has not fought at the level or put in the performances that Khan has. Although he is defending champion, I think this is a step up for him.
It is not a fight that has been forced on him, it is not mandatory, so his camp are showing an awful lot of confidence in the kid and I am just wondering whether he can handle it.
I don't see Garcia as being exceptional in any one department. He is not the biggest puncher and he has been taken close a couple of times by decent fighters. But he doesn't have any major weaknesses either, apart from perhaps experience at the top level.
He is a good all-round fighter. He can box at long range, he can box up close and he seems to have a good chin. He has an attractive style and is good to watch.
I expect a big performance from Khan. He has had a long time out of the ring but I don't expect him to have any ring rust because I think Freddie Roach will have him in great condition. The fight could go all the way but I don't think Garcia has enough to beat Khan in a 12-rounder.