Concentration game
Victor Ortiz's knack of switching off in fights could cost him at the top level, says Jim Watt.
Last Updated: 22/06/12 2:29pm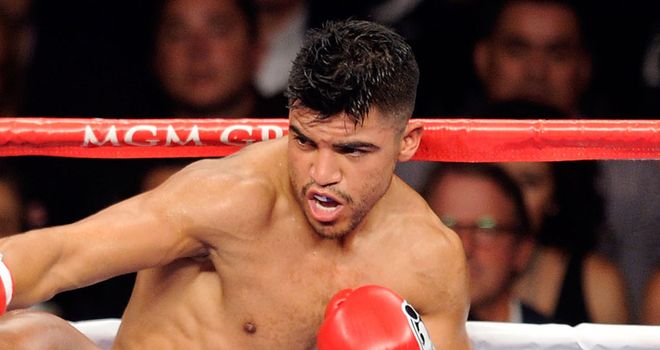 Victor Ortiz's clash with Josesito Lopez will be an easier assignment than the one he was scheduled to face.
Ortiz was set to renew his rivalry with Andre Berto, a man he got the better of in a cracking encounter early last year, but the latter failed a drugs test in May, leading to the fight being cancelled and giving Lopez the chance to make a name for himself.
It is never ideal to face a different opponent to the one you were initially expecting, but it is all part of the game and a well-prepared fighter should always feel ready. I don't think Ortiz will be at any kind of disadvantage.
"Vicious" does still have some question marks to his name, though, following previous matches against Marcos Maidana and Lamont Peterson, as well as his most recent contest against Floyd Mayweather.
Ortiz lost in the sixth round to Maidana in 2009 and got a little bit of stick that I don't feel was necessarily deserved. He put up a terrific showing, putting Maidana on the floor as well as getting up off the canvas himself. It just reached a stage where Maidana was too much for him.
You have to remember that other fighters have decided half-way through fights to bail out, including Roberto Duran and Vitali Klitshcko, who did it when he injured his arm against Chris Byrd. It is not an indelible stain on your character.
Verge
However, Ortiz did let himself down against Peterson a couple of years ago. For four or five rounds he was wiping the floor with his opponent, but then just stopped working, which allowed Peterson to come right back into the fight and get a draw.
Ortiz should have won the fight clearly; he had Peterson on the floor and was on the verge of garnering a stoppage win but then just switched off.
And then against Mayweather, after delivering a blatant headbutt, he couldn't apologise enough, and as he was giving his third apology, he gave Mayweather two or three shots and was then knocked out.
It wasn't so much the defeat that shocked me - Mayweather is in a different class to most and there is no shame in getting knocked out by him - but the fact that Ortiz had a beaming smile after the match. Perhaps he was just thinking of the money he had made.
Ortiz is a strange character because, in between all those blips, he came out with that excellent display against Berto. He seems to be a fighter who switches on and off; one night he shows blind courage, yet on others he is not in the mood.
When he is on form he is a wonderful fighter, but there are lingering doubts over his attitude and temperament. I'm sure that won't let him down in this clash against Lopez, but it might in future in bouts at the top level - and possibly in his rumoured next fight against Saul Alvarez for the WBC light-middleweight title.
Out of the blue
Focussing on Saturday night, though, and Lopez is a good fighter. He has had a tough schooling and this represents a great opportunity for him.
The 27-year-old has been on the fringes for quite some time without getting a chance and now he has a shot out of the blue he will be raring to go. He is not expected to win so that may also work in his favour.
But Lopez is physically smaller than Ortiz, having just moved up from light-welterweight. He is also coming off a defeat to Jessie Vargas, so I reckon Ortiz will be bigger, quicker and have the momentum with him.
It will be a good fight in the early stages, but you've got to fancy Ortiz to take control the longer it goes on. I think he will secure a clear points victory.
A win for Ortiz would make him a more appealing prospect for Kell Brook, who was on Ringside with me this week. Kell needs a big name on his résumé and Ortiz, once Brook has come through Carson Jones, would be perfect.