Tight margins
Jim Watt says Carl Froch must get close to Lucian Bute if he wants to reclaim world championship gold.
Last Updated: 25/05/12 10:10am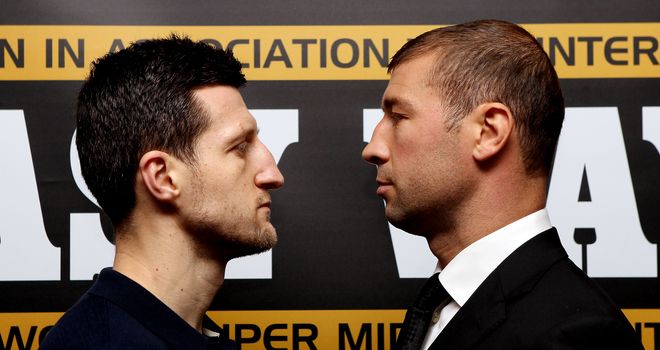 I doubt this Saturday's match with Lucian Bute will be Carl Froch's last shot at the big time.
Froch may be nearly 35 years of age but he has a terrific reputation, which was boosted even further by his performances in the recent Super Six tournament.
A British fighter has never gone through the campaign that Froch has over the last couple of years; the Cobra has fought the best super-middleweights in the division, beaten most of them, and established himself as one of the best pound-for-pound fighters in the world.
There will still be elite fights out there for Froch should he lose this weekend, even if they are not for the title; a potential re-match with Mikkel Kessler springs to mind and that would be very well received.
But you just wonder whether Carl would still have the desire to continue if he came up just short against the reigning and unbeaten IBF champion.
He would have lost to Bute, Andre Ward and Kessler - three career-defining fights - and while his reputation may not be dented, his legacy might be.
Different
That's why Froch will be desperate to win this bout, which will be a very different challenge to the one posed by Ward in December, when he was relieved of his WBC strap.
Ward was very good at getting up close and had very good upper-body movement; he was a bit too quick and a bit too good for Carl.
Bute, meanwhile, is a highly-skilled southpaw, something that is always hard to contend with, while as a big super-middleweight, he may also have the physical advantage on the night.
Bute is a stand-up boxer so Froch may be able to trade jabs with him and get in close - and he will have to do if he wants to beat a man who will be determined to fight at long range.
Carl cannot let Bute dictate the pace and hit him with his terrific left hook and left hands to the body, while there can be no repeat of the poorly-timed, forced shots that he used against Ward.
However, people often forget that Froch is a good boxer with neat skills and an awkward style and those traits, coupled with his heart, will give him a real chance.
Calibre
Froch is also proven at the top level, while Bute has been fighting guys in the second tier. Bute has never needed to dig deep to pull out a win as he has been better than everyone he has boxed, and we still don't know how he will deal with someone of Froch's calibre.
Pus, the fact that this fight is being held in his hometown of Nottingham will be a massive confidence boost for Carl; I had most of my fights at home and it is a terrific feeling.
I don't think Bute will be adversely affected by the crowd but it will certainly be an advantage for Carl. He has this terrific quality to not accept defeat and is always prepared to go into the trenches. With a partisan crowd cheering him on, that desire will magnify even further and may tip the fight in his favour.
The Nottingham audience are likely to be on their feet screaming for every punch that Carl throws, too, while if Bute lands a shot there might be no reaction. That could also affect the judges reading of the fight, giving Froch fans another reason to be optimistic.
Carl could not have chosen a tougher opponent to face after his defeat to Ward; Bute is quicker than the Cobra and considering the hard career that Froch has had, the champion deserves to head into this fight as the slight favourite.
I expect Carl to be hit by a flurry of early shots early on but, if he bites hard on the gum shield, stays close and uses the crowd well, I'd like to think he can pull out a result.