A harsh lesson
Jim Watt reflects on Derry Matthews' shock British lightweight title victory over Anthony Crolla.
Last Updated: 27/04/12 12:11pm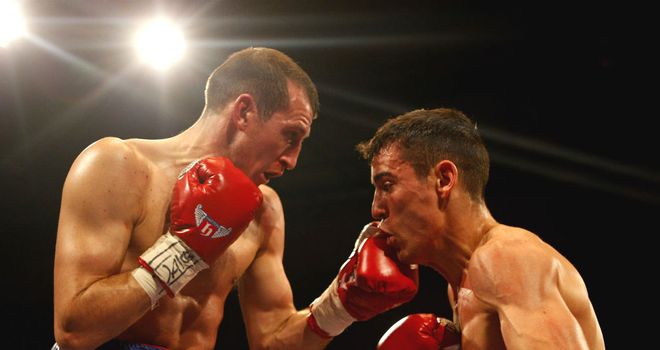 Derry Matthews produced the performance of a lifetime to seize Anthony Crolla's British lightweight belt with a sixth-round stoppage at the Oldham Sports Centre.
Crolla had developed his style over previous and I expected him to do it again. I don't think anyone fancied Matthews to win the fight.
But he produced an outstanding display. I don't think it was much about tactics - it was just sheer guts and refusal to crumble.
Matthews took a lot of punches from Crolla in the first few rounds and up until he scored the knockdown with that beautiful uppercut, it looked as though Crolla was going to swarm all over him.
He's always been brave, Matthews. He's been stopped a couple of times in his career but he's never quit. The courage he showed was phenomenal.
Recovery
We have to remember that Crolla is still only a kid. He probably got ahead of himself a little bit when you look at how hot the lightweight division is. It's a division with the likes of John Murray, Ricky Burns, Kevin Mitchell and Gavin Rees.
He'll be shattered and it's knocked his career back a little bit - but it probably won't do him any harm. What he's got to take on board from is that you can't have an all-out aggressive style, being in range of your opponent 95 per cent of the time without a bit of head movement and a better defence.
Crolla needs a bit more subtlety too. Boxing is not just about putting your hands up, marching towards the other guy and throwing more punches than he throws. You can get away with that at lower domestic level but if you try and move upwards it won't work.
It's a blow to him, but he's still the same kid with the same talent and the same dedication.
Example
John Murray is a case in point. Murray was given fantastic fights and was the most exciting fighter in the country, but he seemed to just disregard punches that were coming his way. It worked all the way through domestic and European level but when he got to the top, it didn't work.
We can't blame trainer Joe Gallagher too much because he had a phenomenal run. At one point all of his fighters were winning their fights. When it's going so well, you can't suddenly jump on the guy and say: 'It's your fault.'
Joe's a great trainer and he gets his fighters in great condition. He lives for the sport and he'll feel it as bad as Crolla. All that's going to have to happen is for Crolla to think more about the punches coming towards him as well as the punches he's throwing himself.
I don't imagine there would have been a re-match clause but I think a return with Crolla is the biggest fight out there for Matthews, unless they can get Gavin Rees - that's one that could be made.
The referee stopped the fight a little bit quicker than I would have, but he did a good job overall. Crolla wasn't on the ropes taking punches without reply - he was on the move and was hurt, but that's what boxing is all about, getting hurt and dealing with it.