Cobra can strike
Jim Watt hails Carl Froch's time at the top ahead of his latest super-middleweight title tilt.
Last Updated: 20/04/12 12:44pm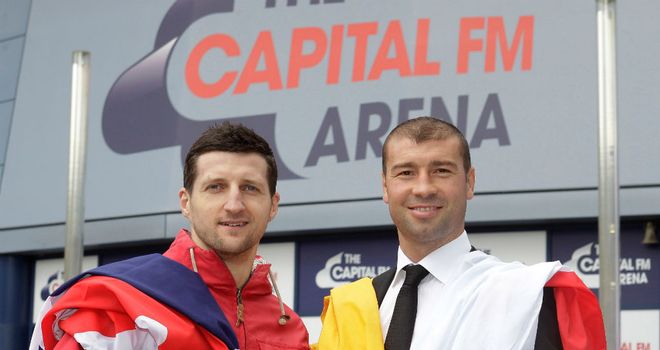 Carl Froch will take on Lucian Bute for the Canadian's IBF world super-middleweight title in front of a partisan Nottingham crowd on May 26 - a fight you can see live on Sky Sports.
The 34-year-old was soundly beaten by Andre Ward with the WBA and WBC titles on the line last time out, but is immediately chasing another strap by facing tough Bute, who hails from Montreal.
Bute is a formidable opponent for Froch. You've got to hand it to Froch - what he's been doing over the last few years is outstanding. He's really been flying the flag, taking part in the Super Six.
Every fight he's had has been against a top rated fighter and he's continuing. A lot of fighters, after a losing fight, will come back from a tool sharpener - but Froch is going straight back in with a top opponent.
Bute is tough and exactly the type of opponent who is going to give Froch problems. If you look through Froch's record, he's had problems against people who can box - the likes of Jermain Taylor, Andre Dirrell and of course Andre Ward, who was outstanding.
If you look through the Super Six, Ward pretty much outclassed everybody so there was no shame in being so soundly beaten by him. Ward had done pretty much the same to everybody and is an outstanding fighter.
Spectacle
Bute isn't as slick or as quick as Ward but he's a good boxer. He's very good defensively and very tough. It's another great match-up and I'm delighted that Sky Sports have got it.
I think Froch should have the edge, but the fact that Bute has agreed to come to Nottingham shows the confidence he has in his own ability. They were talking about having one fight in Nottingham and one in Montreal but it looks like it's just going to be one now unless it's a classic.
Bute hasn't been given the credit he deserves because he didn't take part in the Super Six tournament - but he wasn't invited to do so. He took a little bit of criticism for that and I don't think it's really fair. He hasn't boxed at the same level as Froch because of it though, and I think on form and reputation, you would say Froch should take the belt.
Froch won't be thinking beyond this fight. I'm sure he would love to think about a return with Ward if he thought he could do any better than last time, but I think he's going to have to accept the fact that he's not going to be looked upon as the top super-middleweight in the world.
Knowing Froch's nature, if he's successful against Bute, I think he would like to face Mikkel Kessler again. Kessler is back in business and I think the Kessler defeat has always rankled with Froch. I thought Kessler deserved to win it but just for his own satisfaction, I think Froch would want a rematch. It's a fight that can be made and it wouldn't be surprise me to see those two face-off next time up.
I don't think Froch will ever return to domestic level. Even if he loses against Bute, we have to remember he's still good box office - the Americans love Froch. If he wants to continue, even if it's for financial reasons as opposed to proving himself to be the best in the division, there'll always be big fights out there for Carl Froch.
Progress
Before all that, we've got a hot weekend of action ahead of us to look forward, as promising British lightweight champion Anthony Crolla defends against the more experienced Derry Matthews.
This is a tale of two fighters at different stages of their careers, despite the fact there's only three years between them.
Crolla is a terrific little fighter. He's not a massive puncher but he's loving every minute of the game at the moment. He's on a high.
He's not a big lightweight, which I think at some point in his career may be a bit of a drawback - but not this weekend because he's facing an opponent who has also come up from a lower weight division.
I think he'll be a little bit too good and too sharp for Matthews and we can be looking for a stoppage late in the fight.
It's an unusual situation in the lightweight division because it's the hottest division domestically. Under normal circumstances you wouldn't expect Crolla to be the British champion because there are three lightweights from these isles ranked above him in Kevin Mitchell, Gavin Rees and Ricky Burns.
To start talking about world level for Crolla would be to get ahead of ourselves. He needs to keep learning and doing what he's doing. There's a possibility of him facing Reeds - that would be a terrific match up. He's ready to start chasing the European title, presuming he gets past Matthews.
Sometimes what I like with young fighters is for them to win the Lonsdale Belt for their own property. It's easier these days - when I was boxing it was 'win the title and make two defences.' Being the fact that's he's still improving, I'd think it'd be a good plan to make a few defences and then eventually give up the British title to chase other things. I wouldn't go chasing onto world level too quickly.