Is Dan the man?
American tyro Danny Garcia must prove his worth against the legendary Erik Morales, says Jim Watt.
Last Updated: 22/03/12 7:54am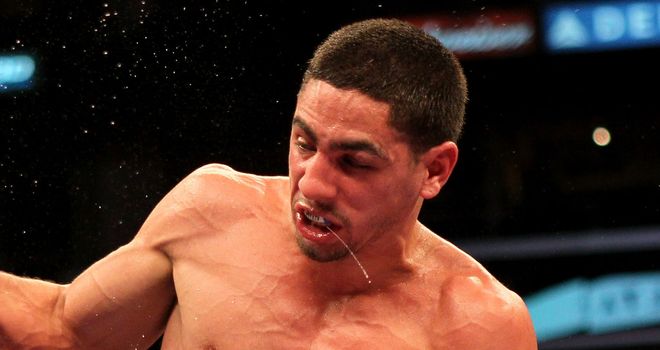 Erik Morales defends his WBC light-welterweight title against unbeaten prospect Danny Garcia late on Saturday night - and it promises to be an intriguing battle of experience versus youth.
Mexican legend Morales is now 35 and has lost just seven of his 59 fights, but will go into the ring in Houston as an underdog with many fancying 24-year-old Philadelphian Garcia to become a household name in years to come.
Garcia is a very talented kid. I saw a couple of his early fights when he'd just turned pro, just over four years ago now. Those first few fights didn't last long but he looked classy and fast.
He turned pro with the reputation of being a really good amateur so I thought he might be the kind of kid they'd rush through but they've taken their time with him.
He was stopping the people you're supposed to stop at the start of your career but as he's moved up the levels, it's become apparent that he's not a huge puncher.
He's a respectable one, but when you're talking about punchers at the top level, he's not really a massive one.
Longevity
At this stage of Morales' career, it's amazing we're still talking about world titles - let alone defending them! Garcia won't want to get into a war with Morales; he'll try and beat him on the move. I don't think he'll even try to stop him.
We saw Garcia get into a bit of a trade-off with Kendall Holt the last time he fought, but that shouldn't be his tactic here. I think he'll pay Morales the full respect because it's a huge opportunity for him and I don't see him taking chances that he doesn't have to take.
I think the styles will blend well because Morales will press forward. When Morales faced Marcos Maidana, we were all worried about him thinking he was going to get blitzed out of there.
He'd picked the toughest guy in the division; maybe not the best, but the toughest. But once he got through a few shaky moments he took control and put on a terrific show.
He's still a terrific performer and could prove too experienced for Garcia; he could box Garcia into a corner and take it away from him.
Risk
There are echoes of when Amir Khan fought an ageing Marco Antonio Barrera but we're talking about a world title here and it belongs to Morales.
Khan facing Barrera was a wise match because Khan was a fair bit bigger than Barrera, but Morales looks comfortable in the light-welterweight division now. I know he's come up through the divisions but he's done it gradually so he gives the appearance of a full-blown light-welterweight.
The youth, the size, the style and the speed of Garcia may well get him a points victory, but it's not out of the question that he might fall into one of the traps Morales will set. Having said that, Morales won't want to be chasing around after a young kid. Garcia should get some punches off and then get out of there.
Morales' punches looked sharp enough in his bout with Maidana and I'm delighted we're still talking about him. When he made a comeback, I shook my head and said: 'Don't'. But he's been great.
Morales wasn't all that impressive against Willie Limond. Limond was outboxing him in the early stages, and then I think eventually the body shots and everything kind of got to him. Garcia is a better proposition than Limond and he'll be able to keep the whole thing going for the 12 rounds. It slightly leans me towards Garcia.
If he's as good as we're expecting him to be, he should win. At this stage, you wouldn't be sticking him in with Timothy Bradley, Amir Khan or Lamont Peterson, but it is time to make his move. He has enough fights behind him, is unbeaten and therefore high on confidence.
The time is right to start chasing a title, and Erik Morales is the pick of the bunch.