Rise of the machine
Wladimir Klitschko's mechanical style will see him ease past Jean-Marc Mormeck, says Jim Watt.
Last Updated: 01/03/12 5:16pm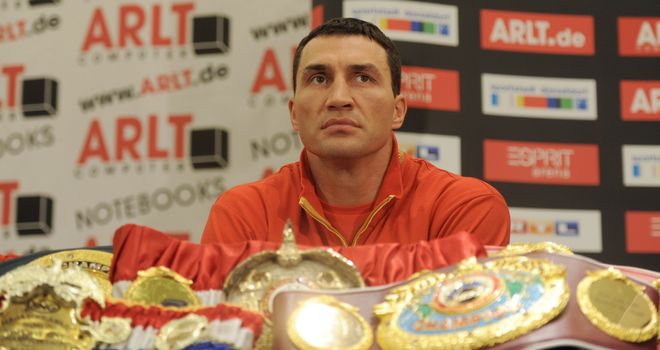 Wladimir Klitschko is at the stage of his career where he treats fighting like a business.
I think his days of looking forward to bouts and getting excited about boxing are over; I'm sure he's not champing at the bit to get back in the ring in the way that a youngster might.
Klitschko is highly educated and that will ensure he has a big future outside of the sport, but I don't seem him hanging up his gloves while he can win fights boxing within himself.
Both Wladimir and his brother, Vitali, have not had significant challengers in the heavyweight division for quite some time - and that has helped them to conserve energy and stay at the top.
If they were in tooth-and-nail contests, then maybe they would be thinking: 'That'll do me'. But they are not and I do not see anyone stopping them, unless they start feeling their age.
A lot of boxing fans may get bored with the Klitschkos uncompetitive bouts - but they don't in their adopted home of Germany. The fights are huge events; they are treated like a family day out and everybody wants to be there.
The German people don't care about seeing rip-roaring bouts, they just want to see their guy win - something that is very likely on Saturday night.
Rhythm
Wladimir, like his brother, has a very robotic style; it's the Eastern European way. However, the younger Klitschko is more athletic.
He has better movement and manages to find a little bit more rhythm in his boxing, something he showcased in his outstanding performance against David Haye last July.
That said, Wladimir is probably not as tough as Vitali, not as heavy a puncher and has a weaker chin. Maybe that's an area that Jean-Marc Mormeck can try to exploit but, in reality, all the problems will be with Mormeck.
He is not going to be underestimated by Klitschko, who is the ultimate professional and will be in great shape.
Klitschko knows the Frenchman shouldn't be too difficult to dispatch, but that won't have translated into how he has prepared.
Burst
The height disadvantage will also be difficult for Mormeck to contend with and if he is to do any damage, he has to get in close. Everybody knows when you face a Klitschko that you have got to get past the jab and work the body.
Mormeck can't possibly stand-off; if he does that it will be one-way traffic. He also needs upper-body movement, to fight in little bursts and slip and slide, and at times he'll probably have to lunge his way in just to get punches off.
I'm confident that Mormeck will put up a show. He is a warrior and a damn good fighter, even though he is a little far down the road age-wise.
He has paid his dues and is now cashing in on his big opportunity to fight for the world heavyweight title, but how can we expect a near 40-year-old cruiserweight to test Klitschko?
The fight could last a while, though, because the Klitschkos are strange in that they don't bother a lot with knockouts. It's against their nature to take chances.
But if it reaches the stage where Wladimir is hitting Mormeck without reply, he'll probably put the pedal down and stop his opponent around the seventh or eighth round.