Day of the Jackal?
Jim Watt expects Ulsterman Carl Frampton to be too polished for Kris Hughes in Saturday's bout at York Hall.
Last Updated: 27/01/12 10:08am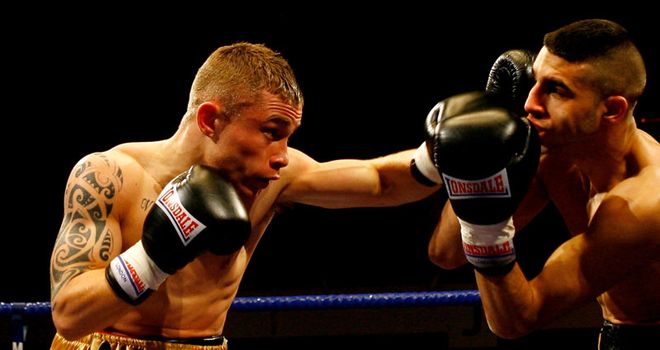 Carl Frampton is a man that everyone is talking about.
People are already looking forward to a match between the Commonwealth super-bantamweight champion and British titlist Scott Quigg, but first the Ulsterman must get past Kris Hughes this Saturday at York Hall.
The pressure will be on Frampton; he's got the gold and the big reputation, but I'm pretty sure he can cope with that. He will head into the bout as the overwhelming favourite.
'The Jackal' is a very complete little fighter and has been ever since he was an amateur. He has a very attractive style and at the age of 24, his ability is now intertwined with maturity. He's strong, he can punch and there are no real weaknesses that I can see. He is ticking all the boxes.
It's just a case now of picking up experience and seeing how he develops. We've seen plenty of great prospects in the past who've hit a certain level and then just stayed there.
I don't think that will happen to Frampton but he's just coming to the stage of his career when we'll find out how good he is.
Carl's manager, Barry McGuigan, has invested a lot of time in him and has been singing his praises for over a year now. The fact that he has moved up to title level with so few fight shows they have confidence him.
I don't think Barry is modelling Frampton on his own style, but as Carl's not the tallest kid in the world, he'll want to learn how to get close to the body, something Barry was pretty good at.
McGuigan was also a pressure fighter and that, too, is a trait Frampton will be looking to develop.
Movement
Carl's opponent, Hughes, is a very good boxer but he doesn't have a lot of power so we obviously shouldn't expect him to stand and trade at any time.
He is a southpaw, though, and that could prove tricky for Frampton, while his movement should cause some problems as well.
The last time I saw Hughes box was in his only losing fight, against Jamie Arthur. I don't think he performed at his best and I got the impression that he was holding something back. I don't know if he was a bit unsure of how to go for 12 rounds, but now that he has - and lost - that might spur him on a bit.
There wasn't anything wrong technically with Hughes and we have to remember that Arthur is a handful for anybody because he really goes at it. That would fight have been good preparation for Frampton, who is also a come-forward type who sets a fair old pace.
Hughes has said that the fact he has gone the distance, albeit only once, might give him an advantage over Frampton, whose longest fight was a 10th-round win over Wales' Robbie Turley last year.
I could see where Hughes was coming from had he won the fight over 12 rounds, but he lost. Arthur was deducted two points and still won pretty handily, so I don't understand how he can turn a defeat against Arthur into a plus against Frampton.
Perhaps the York Hall in Bethnal Green will inspire Hughes; it's a well-established boxing venue and the architecture of the arena tends to bring out the best in people. The crowd is always really fervent, too, with people in the balconies hanging over the ring.
We've seen some terrific bouts in the building and I'm expecting this to be a good fight, too - however long it lasts...
Jim's judgment
I think eventually Frampton's strength and work rate will get to Hughes. It just depends on how well Frampton, who we have to remember is not yet the finished article, gets to grips with Hughes' height, reach and movement in the early stages. However, I think he'll sort that out and by the halfway stage I think he might prove to be too good all-round.