Jersey war
Carl Froch must turn his bout with Andre Ward into a brawl if he hopes to be victorious, says Jim Watt.
Last Updated: 15/12/11 1:26pm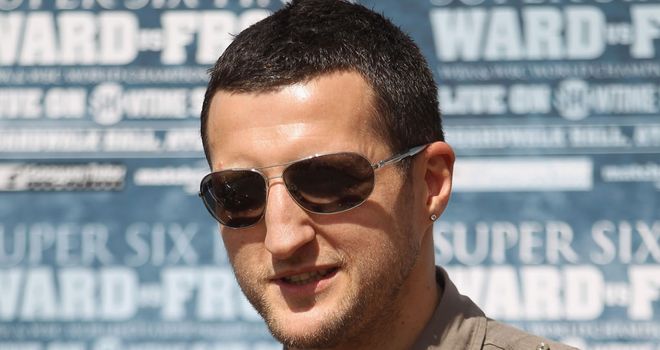 It is great news the two best fighters in the Super Six tournament have made it to the final in Atlantic City and I expect it to be a terrific bout.
Carl Froch and Andre Ward have different styles, but they are both aggressive and like to throw a lot of punches. It is very difficult to pick a clear winner.
It will be interesting to see what the New Jersey crowd is like. Carl is popular in America but he's no Ricky Hatton and won't be bringing over droves of fans.
Meanwhile, with the fight taking place miles away from Ward's home of Oakland, California, there may not be a great number of his supporters either. There's a good chance it will be mainly neutral boxing enthusiasts ready to see a cracking contest.
Impose
Froch has impressed me more en route to the final as he has improved with every fight and is a far better boxer now than when the tournament started - but he has got to impose himself if he is to have a serious chance of beating Ward.
The Cobra has tremendous physical strength and is extremely tough, but he doesn't always use those assets. Sometimes he wants to stand off and box and I don't think they are the right tactics to use against Ward.
He needs to get close to the American and draw him into a brawl because in a boxing match, you have to favour Ward. Carl has to be prepared to fight at a pace that he doesn't normally like.
He enjoys fighting at a steady speed but I think he has to raise that pace to beat Ward; trap him in the corners, step across and jump on him.
Ward is the quicker man and does unusual things. He switches from an orthodox stance to southpaw and back again. He leads with the back hand and finishes with the forward hand.
It is tough to deal with and I imagine it has been difficult for Froch to find a sparring partner to box the way Ward does. The American's awkwardness and speed are going to be Carl's biggest problems.
Angry
The mind games have certainly intensified this week, with Froch saying Ward looked rattled during their final press conference.
I didn't see that and I think it's just the Briton trying to get under his opponent's skin. Carl obviously wants to make Ward as angry as he can so that he'll forget his game plan and fight in a hot-headed manner.
But Ward is an unbeaten fighter, he's supremely confident and he's showed great form to get to this final. He won't be derailed by a bit of psychological warfare.
There is no genuine needle there because the two guys don't really know each other; there's actually plenty of respect.
We've just reached that stage of the build-up where all the physical work is done and the fighters are now trying to get on their rival's nerves and draw them into the fight they want. All these niggles are just part of the act.
This fight is as much about bragging rights as it is the WBC and WBA titles. In the game today we have various champions at every weight and you don't need to be world class to be a world champion.
But I think whoever wins this match can lay claim to being the best super-middleweight on the planet. IBF titlist Lucian Bute might have something to say about that, but he wasn't in this tournament and has it all to prove.
Tremendous shape
Carl has made reference to Ward's lack of power and as far as knocking people out goes, that's a fair assessment. But fighters who are not massive punchers know they have to be in tremendous shape because fights are going to go the 12 rounds.
A lack of power isn't going to count against Ward too much; he hits hard enough to gain respect and that's all that matters. And, besides, Carl hasn't stopped an awful lot of people either during the Super Six event. He's a big puncher but he's not knocking people out.
The Briton has probably faced better opposition on his path to the final, though, and has this knack of finding a way to beat people who are more talented than him.
He's been out-boxed by Jermain Taylor and still found a way to win, while Andre Dirrell was awkward and he still beat him. I'm hoping he can do the same against Ward.
But we've got to accept that Ward deserves the favourite's tag because of the fact that Froch lost to Mikkel Kessler and the American beat him pretty clearly.
Carl is the slight underdog at Boardwalk Hall - but there's not much to split them.