Think Floyd!
Jim Watt says a Khan-Mayweather showdown will move closer if the Briton conquers Lamont Peterson.
Last Updated: 08/12/11 10:53am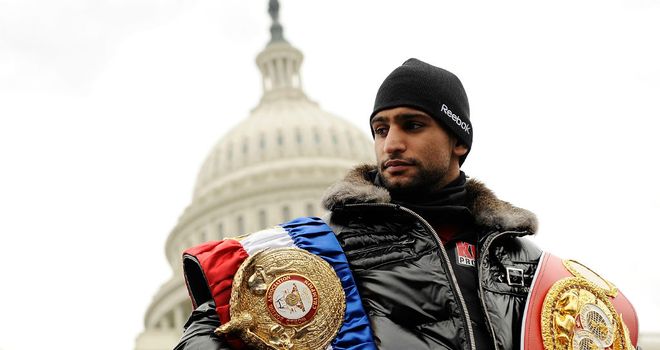 I think Amir Khan has returned to Sky Sports at the perfect time. He's aggressive, exciting and on the verge of becoming a superstar.
There are already strong indications that he will step up to welterweight in the near future, where a big-money meeting with Floyd Mayweather lies in store.
Before that, though, he has some business to attend to at light-welterweight, starting this weekend against Lamont Peterson and, make no mistake, the American is a worthy challenger for Amir's belts.
Peterson has good pedigree, having boxed for Timothy Bradley's WBA title in 2009 in which he put up a decent show. He also got a very good draw with Victor Ortiz and won an eliminator against the Dominican Republic's Victor Cayo to earn this bout.
With the fight taking place in the challenger's home town of Washington, DC, you would expect 90-95 per cent of the fans to be behind Peterson. That will give him a little bit extra; it always helps you perform knowing your loved ones are in the crowd.
Peterson also won't be short of character. It's a very important trait in boxing and people can sometimes claw out victories purely through resilience. Peterson has that little bit more because he has had to deal with adversity during his life.
The backstory of him and his brother, Anthony, being found parentless on the streets aged 10 and being honed into boxing stars is well known, and he showed plenty of grit to claim that draw against Ortiz when, earlier in the fight, he was on the floor. He won't be found wanting on Saturday.
Shaken up
But neither will Amir, who is a completely different proposition to when he had that off-night against Breidis Prescott three years ago.
He was a kid back then, made far too many mistakes, was defensively hopeless and had been shaken up by fighters like Willy Limond and Michael Gomez.
He's a vastly-improved fighter now and obviously that's because of the Freddie Roach influence.
Roach has taken Khan to the States where he's training in the Wildcard Gym and having spars that are harder than the fights he was having in the early days. Amir's maturing as a man and boxing beautifully.
We're always worried about Amir's chin and his punch resistance, but the punches he took against Marcos Maidana showed us all that he can take a shot and come back from it.
And besides, Peterson is not looked upon as a big puncher. He's a lovely boxer and knows all the tricks, but I doubt he will be able to match Amir for speed, while I'm sure the Briton will also have the edge in size come fight night.
Options
If Amir comes through Peterson unscathed, as I fully expect he will, he has plenty of options. The only person who can hold a candle to him in the 10-stone ranks is Timothy Bradley. Khan wants that fight to prove he is top of the tree but it's not taking place. I think that's down to Bradley.
So his next bout may very well be at welterweight. He's not going to step up and face Mayweather straight away; he'll want at least one match before he goes down that route.
Ortiz did very well against Mayweather before he completely lost his concentration. He'll be facing Andre Berto early next year and the winner of that will be a very good bout for Khan. Victory there and everybody would be screaming for the match with Mayweather.
Before we get ahead of ourselves, however, Amir has to polish off Peterson. The American is cute, will dig in and will be a stern challenger - but the longer the fight goes on, the more I expect Amir to take control. He will hit hard and hit often.
If Khan could stop Peterson in eight or nine rounds it would make a huge statement, because it took Ortiz and Bradley the full 12.
Amir's becoming a big name in America and I think Saturday's fight will only add to that. The future for him, and his fans, is incredibly bright.