Quigg's big test
Can Scott Quigg overcome the wily Jason Booth? Jim Watt says he'll prove his credentials if he does.
Last Updated: 21/10/11 8:32am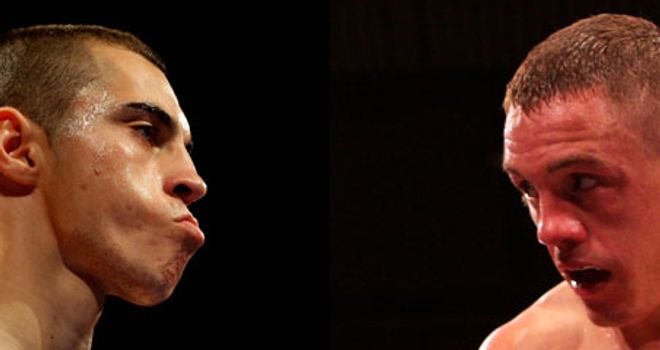 I watched plenty of Scott Quigg's early fights and have to say I was greatly impressed.
If you'd have asked me to name the best prospects in the country a couple of years ago, his name would have been right up there.
I like his attitude, his temperament and the skill he's shown. In fact, even though I haven't seen all of his recent fights, everything he's done has been excellent and he really is starting to fulfil that potential.
We will find out for certain on Saturday night because on paper at least, there is no tougher test in the super-bantamweight division than Jason Booth. Young Quigg could be facing things and be asked to deal with things he has never come across before.
I say could because the one thing with Jason is we are never sure quite how much he's got left, in terms of hunger and desire. This will be his 44th pro fight and he's had many ups and downs along the way, as well as his problems out of the ring. He is coming into this off the back of his first stoppage defeat, at the hands of Kiko Martinez, so the big question is can he do it one more time.
Quigg has to assume he will get Booth at his best. The fact that Jason has taken this fight, especially after that loss, suggests he is still up for it. He is an honest lad and I am sure if the hunger and zip wasn't there in the gym, he wouldn't be taking this.
If it is a prime Jason Booth, it means a proper, old-school fighter, the sort you'd see 30 or 40 years ago. He's comfortable in range, he's very good defensively, he puts his punches together beautifully and can box at long range or on the inside.
He is a great technician and he has the wonderful ability to adapt within a fight. If something is not working, he susses it out right away and can change tact, just like that.
There might be case of him slowing down physically and in that respect, this might have come at the right time for Quigg.
But even in that respect, this is still a huge jump up in class and experience for him. Booth is coming off that loss and although he has slipped under the radar a little bit, Quigg is 23 and has 22 fights, so has to start moving up.
Undefeated
He can no longer fight journeymen or guys with losing records, and this is the sort of test he needs. It's just his luck it has come against someone as crafty as Jason.
If I were his people I would be telling Quigg to forget about the knockout. I know he has an impressive record of stopping 15 of his 22 opponents and he is undefeated, but he has to work out first how he is going to beat Booth.
He is not going to out-smart him or tie him up technically and he certainly can't afford to go in there throwing single shots, especially jabs. Straightforward stand-up boxing is not going to work.
Quigg is always in great shape, so I think workrate is the way to win this - but that does not mean boxing for every second of every round. I would opt for fighting in bursts, getting in, letting three, four or five, shots go and the getting out again.
If he can do that seven, eight, maybe nine times a round and then get comfortable in there, he might soon find that Booth is not the force he once was. The trouble is, Jason is a proud little so-and-so, so you can't afford to think you'll come up against anything other than him at his best.
Willing
And he is always in close fights; fighters who stand their ground, bobbing and weaving, tend to be. Little John Simpson is a fighter like that and because of his style and the fact that he is always willing to put himself in the firing line Booth, winning or losing, is never going to make it easy for the judges.
I expect this to be really close too. Of course, there is a danger that a long hard career and some gruelling fights finally catch up with Booth, but we know we can't afford to write him off. We all thought he was done three fights ago when he lost to Steve Molitor for the IBF world title, yet he bounced back to win a cracking fight with Jamie Arthur.
There is a 10-year age difference between them, which might tell, but the one thing Quigg can be sure of is he will learn more in this one fight than he probably has in his other 22. He has to be respectful of Booth but cannot afford to be intimidated.
He will fancy the job - and he has to. He will get clipped a few times and will have to take it so he can dish it out, so his mindset is crucial. But as I said at the top, that is one of his most impressive assets.
If he has that right, I just think he has the youth and ambition to come through this and nick it on points.