Mexican send-off
Jim Watt hopes Erik Morales escapes without too much damage against Marcos Maidana.
Last Updated: 07/04/11 4:10pm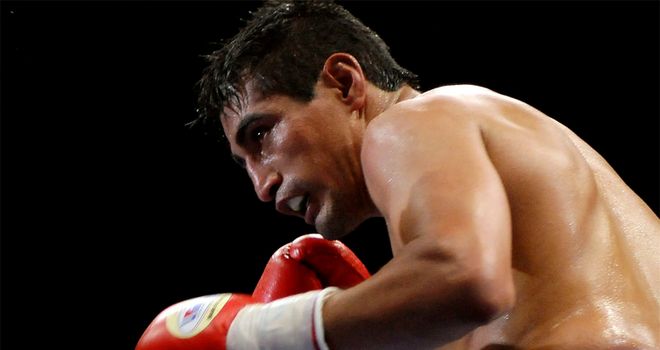 People are probably wondering why Erik Morales is fighting again after all these years - and without a world title on the line.
Well the answer is, that is what Erik Morales does; he doesn't just come back for the big fights, he just wants to fight and you have to admire him for that. But that is probably his main problem - he's not prepared to change.
His great rival Marco Antonio Barrera reached a stage where he was having and winning tough fights but realised that if he wanted to lengthen his career he'd have to change his style, use his skills and boxing ability a bit more - and it worked.
But Morales is different. His attitude is 'I'm a Mexican and I'm always going to fight like a Mexican'.
Starting with the surprise to defeat to Zahir Raheem in 2005, he lost four fights on the trot, two against Manny Pacquiao which is no disgrace and retired, as we all expected him to. But unfortunately, you might say, for Erik the fire is obviously still burning and he's now back fighting at 10stone.
After reappearing at light-welterweight he's boxed reasonably well in his four fights - Willie Limond was giving him tremendous problems for a few rounds until someone reminded him who he was fighting - but now he is fighting maybe not the best, but certainly the hardest and most dangerous man in the 10-stone division in Marcos Maidana.
And that is another reason why Morales is coming back; not just for easy fights, he obviously believes he can win a fourth world title at a different weight.
The loss to Amir Khan won't have done Maidana any harm whatsoever. It was a phenomenal battle that had everything; he found himself on the floor from a bodyshot that would have finished most 10-stoners and but he put up a great fight and if you take away that knockdown and the point deducted, he wouldn't have been far away from sharing the honours.
I actually thought Khan won it comfortably but it did nothing but enhance Maidana's reputation.
I don't expect him to do change anything from that fight either because if you think about the amount of times he hit Khan, you can't really say he did anything wrong, it was just Amir came back with more than he did.
Slipping
He wasn't as if he was hitting fresh air all night long, the amount of times he got through, the fact he had him on the verge of a knockout and had him hurt several times, I see no reason why he would want to change. He's only been beaten twice, both of them in world championship fights and both of them close.
Maidana will be tough for Morales to handle because he is going to have to be blocking shots as opposed to slipping them, but there have been understandable signs of wear and tear - even though he is somehow only 34.
But I don't know if he was struggling to make the weight when he lost to Pacquiao at super-bantam, so it could be that he has come back a better fighter, physically at least.
I still think he'll box his normal style, standing in front of Maidana, not doing what Barrera did later on, moving around, popping off shots, fighting in spurts - I just can't see him doing that.
Because of that, it is going to be a cracker of a fight, even if I do have mixed feelings. It's a fight I'm looking forward to immensely but I do have reservations about Morales. He's been stopped before, but it would be sad to see him come to a horrible end here.
We might see some flashes of his old brilliance but I just think Maidana is going to be too tough for him and will stop him in the second half of the fight, probably on his feet. Then though, I start looking down his record and looking at old clips of him and you wonder... this is Erik Morales after all.
Technically he's in a different league to Maidana and there will be that little thing in the back of everyone's mind, can he outbox Maidana, will he be too smart for him?
It might happen, but usually when a match is made you make up your mind straight away and as time goes on you start going over it, start making cases for and against a fighter, when usually your first instinct is what you end up with.
That's where I'm back to thinking; that Maidana will be too much for him physically. I just hope Erik Morales comes through this ok and we will soon be back to talking about his heyday as one of the Mexican greats.