Froch at full throttle and ready to overpower Mikkel Kessler
Last Updated: 24/05/13 3:22pm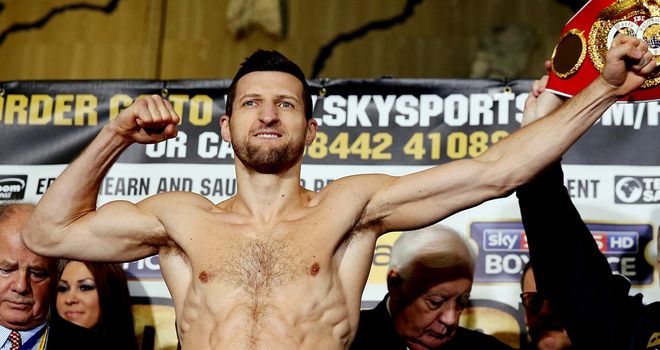 Sparking: Carl Froch is firing on all cylinders
Carl Froch has warned Mikkel Kessler that he will be at full throttle when they get it on again.
HOW TO BOOK THE FIGHT
VIA ONLINE
To book go to www.sky.com/orderboxoffice . There is no surcharge for online bookings.
BY SKY REMOTE
Press box office. Select sports and events. Use the arrow buttons to highlight the event. Press select and the buy screen will be displayed. Press select to confirm your orde. Enter your pin if prompted
BY PHONE
To order the event call 08442 410888. There will be £1 booking fee for telephone bookings. There is a £5/5euros surcharge for bookings made via the phone from midnight, Friday, May 24 to midnight, Saturday, May 25.
Sky Box Office terms and conditions apply
The Cobra was far from silent when the two rivals faced off for the last time, the day before their showdown at the O2 Arena live on Sky Sports Box Office.
A huge crowd could not hear anything Froch said but he whispered in Kessler's ear twice, but later admitted that he is fired up and waiting to go through the gears and avenge the defeat he suffered in Copenhagen.
"It was words exchanged between men and two warriors so I am not going to share them," Froch told Sky Sports News HD.
"We were having a conversation about the first fight we had and I told him to expect better in this one.
"I am here to do a job and tomorrow I will really execute my game plan. We've got it firmly in place and I know what I've got to do.
"I am sure Mikkel Kessler knows what he has to do, but I am turning up in the best possible shape I could be in.
"I am at my best and don't be too brave for your own good. He's in for a shock and a lot of people are going to be in for a shock because I've done the weight and the way sparring has gone, everything has gone well.
"I am firing on all cylinders. I am sparking."
Experienced
Froch and Kessler both shook hands and said a friendly farewell after they both came inside the 12st weight with ease.
The 'home fighter' admitted that he had issues making the weight when he was beaten over three years ago when the ash cloud hampered his journey to Denmark.
That, as well as the delay, played their part but the 35-year-old admits he was beaten "by the better man" back April 2010. But that, is now history.
"When I boxed him in the first time I wasn't in the best shape because of all the problems but he beat me fair and square," he said.
"He is very, very good man and a very experienced fighter. But he knows and I know that I wasn't at my best.
"But I will be this time - and that was one of the things I was telling him."