'Khan was too static'
British boxer lacked movement against Garcia, say Sky Sports experts
Last Updated: July 16, 2012 9:01am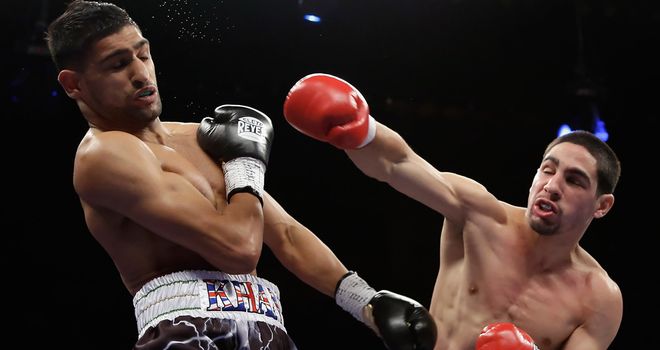 Khan (left) lost convincingly to Garcia in Las Vegas
Barry McGuigan told Sky Sports that Amir Khan's lack of footwork cost him dear as he lost to WBC champion Danny Garcia inside four rounds.
"There is a chance Amir can come back from this but it's a long way back because he still has that vulnerability about him."
Barry McGuigan Quotes of the week
The Bolton boxer was floored by a devastating Garcia left hook during round three of his light-welterweight contest in Las Vegas, and after tumbling to the canvas two more times in round four, Khan saw referee Kenny Bayless bring an early end to proceedings.
Click here for our fight report
"He fought the wrong type of fight," McGuigan said of Khan, whose defeat saw him surrender his grip on the WBA strap.
"He had to get in and get out; he was getting the shots off but he wasn't moving his feet back and sure enough he got caught.
"He was brilliant in his amateur career using his legs, but he didn't use them in this fight. He kept staying there and punches were whizzing by his head.
"He had to watch that left hook, which is Garcia's signature punch, and once he got hit with that he never really recovered. Khan showed tremendous courage to come back from [the shot in round three] but the best man won.
"There is a chance Amir can come back from this but it's a long way back because he still has that vulnerability about him. It's devastating because he has been looking so good."
Judder
Sky Sports pundit and Ringside co-host Johnny Nelson also believes Khan used the incorrect tactics in his duel with Garcia, suggesting he should have utilised his superior speed rather than become embroiled in a 'tear up'.
"Amir was hit on the back of the head in the first and second rounds and his legs started to judder," said the former world cruiserweight champion. "It was like he was drunk and had no control over his feet.
"Amir was hurt and because of that he wanted to get into a war and his instincts were to stand there and have a tear up, when he should have worked on his jab, footwork and speed; he is a great boxer but not a great fighter."
"His trainer, Freddie Roach, was training him to lay two or three shots and get out, so he didn't stick to the game-plan; he planted his feet and Garcia didn't even have to look [where he was punching]."
The Briton's future looks uncertain, but victor Garcia - who has extended his unbeaten professional record to a 24th bout - can now look forward to some exciting fights with boxing's elite performers.
"Danny Garcia put in a tremendous performance and no matter how much we say Khan used the wrong tactics, Garcia made him fight that way," added McGuigan.
"He fought brilliantly and showed that he is a tremendous, accurate puncher and better than we thought he was, so let's take our hats off to him.
"He had fought Ashley Theophane, Kendall Holt and an aging Erik Morales, but this guy has now elevated himself up into the super league and showed that he can compete at the highest level."