So it looks like Kell Brook's big chance is finally on its way.
That appears to be the case and even if we all know how things can change and indeed go wrong, we all want to see our lad fight for a world title.
Shawn Porter has been thrown into the Floyd Mayweather mix as well of course and it looks like that won't happen now but it does prove that he is good, very good.
But let's be honest here, Kell has to beat him because if he doesn't, I don't believe he will get another chance to hit the top.
I know him of course and the last two or three years have been so frustrating with all those injuries, the big fights falling through and I do think the lad is playing catch-up now. He has missed out on the best two years of his career.
In that time he sharpened his tools, he gained experience and he matured but the big stage was never there for him to put it all into practice. Now with that chance finally here at last, we don't know how he is going to do.
His trip to New York is not going to be like Brian Rose's adventure. Let's be honest most of us didn't expect him to beat Demetrius Andrade and if he was going to, he needed to fight out of his skin and the champion needed to have an off-night.
Proof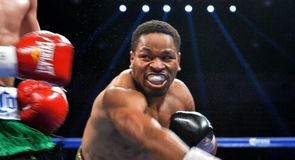 But because he has been knocking on the door - or at least looking through the window - we want Kell to show that he is in that world elite, and that is why he needs to fight Porter.
Yes, fighting for a vacant title might well be easier, but does that prove to us that Kell is that good? I am sure Scott Quigg will tell you he didn't feel like a world champion until he had fought for it and defended it against his mandatories.
Taking on the world champion, especially one as highly-rated as Porter, will make it more intense, bring the best out of him and winning will tell us - and him - that he belongs with the very best.
He needs that because right now in that division there is only one British fighter we know belongs at the top level... Amir Khan. Yes we all want it to happen, but Kell needs to bring something to the table - a world title and proof that he is up there with the best.
Shawn Porter is good but I think he is just a cruder version of Kell Brook. If Kell is in great shape and on top form, he will win.
When? It doesn't matter. There is talk of early September and yes it means Kell does not get the break that most boxers still get in the summer. But there are plenty of fighters missing out on holidays and time with their families because they are all lining up fights for autumn as well.
Where? Well New York is not a problem. So what if Kell has only boxed over in the States once before? He has boxed well on his travels and going somewhere to take on the best in his own backyard, either makes you or breaks you.
This has to be the making of Kell Brook.