Manchester's Jeff Jones is no ordinary coach, says Daniel Routledge
Don't be fooled by Jeff Jones' niceness, says Daniel Routledge, as he's one heck of a teacher.
Last Updated: 15/11/12 12:25pm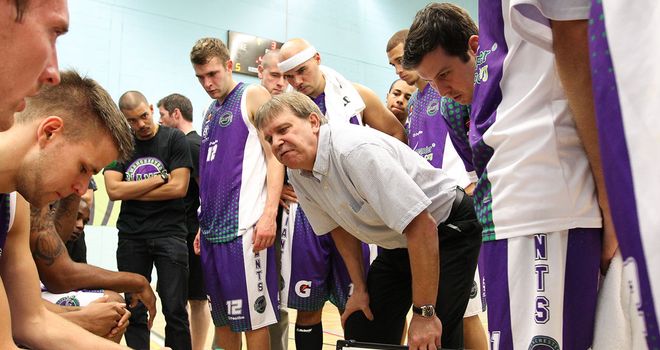 As a kid growing up, Manchester was a basketball power; at one stage there were two top teams based in the city, one owned by Manchester United no less.
Through the 1990s and into the early 2000s, the Giants were one of the great names in British basketball.
They hold a special place in my heart as hosts of the most memorable game I ever had the pleasure of commentating on for Sky Sports, the winner-takes-all league title decider against Sheffield in 1999.
I still vividly recall Terrell Myers' head fake to send Kevin St Kitts flying by, one dribble and then his buzzer-beater to claim the title with the very last shot of the season.
I don't expect I will live long enough to see a better finale to a league campaign than that. It was like Michael Thomas at Anfield ten years earlier, but without the minute or so that was played after he scored.
So for people like me, who've been around the game longer than we care to admit, seeing the Giants back in Manchester is an absolute thrill.
I know this version of the Giants is not the old club, but that doesn't really matter to me, there's something special about the name. A nickname linked to Manchester for almost as long as I've been alive and one that I would have seen on their shirts before I was even old enough to be able to read it.
Competitive
Of course, there is one golden thread between Manchester past and present, one that goes back almost as far as the Giants name itself, their coach Jeff Jones.
Back in the days when shorts were, well, short, Jeff was in the Giants' backcourt filling up the stat sheet. There are not too many people still left in the BBL I can remember from my days as a young ball boy chucking up half-time three-pointers whilst the teams were in the locker room, but Jeff is one of them!
As well as being one of the nicest people you will ever meet in the game, Jeff is also one heck of a teacher. If you need any proof of either of those facts, take one look at his team roster. They've almost all played for him at some point in their past and all rushed back to be part of his BBL team, and that speaks to what a great bloke he is.
Oh, and most of them will tell you how influential he was in their development as young players, that speaks to what a great coach he is.
Don't let Jeff's niceness fool you though, he's as competitive as anyone and I'm sure he will be more desperate than anyone to mark Manchester Giants' return to the Sky Sports screens with a victory.
They face a wounded animal, however, with Leicester looking to bounce back from a first defeat of the season. Last weekend Surrey were the first team this year to knock off the Riders, continuing their own fine start to the campaign.
The Heat have now moved up to a 7-1 record right behind Leicester and Newcastle on 8-1 and there almost looks like a little daylight between those three and the chasing pack.
Plymouth and Glasgow still have what it takes to try and break up that triumvirate, but they will need to win their games in hand.