Leicester Riders on a high, hope for Cheshire Jets, says Daniel Routledge
Daniel Routledge blogs on Leicester's flying form and the need for all fans to get behind Cheshire.
Last Updated: 02/11/12 9:52am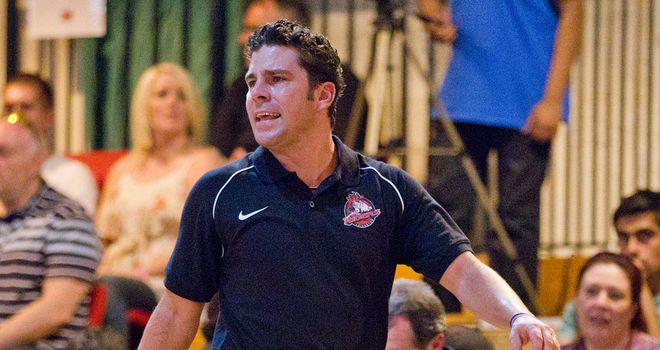 'I read your blog', laughed Rob Paternostro after his side's impressive victory at Newcastle in our televised game, before going on to remind me how I'd tipped the Eagles to beat his Riders.
In my defence, I suspect there weren't many even amongst the Leicester fans who predicted the Riders, without the injured John Fraley, would end a 15-year, 27-game losing streak in Newcastle.
And whilst I'm on the defensive, how good were the Riders at that end of the floor? Drew Sullivan led by example and I was particularly impressed with how well the guards took away Newcastle's penetration. Not to mention their rebounding without the league's leading rebounder.
Riders matched their best ever start to a top-flight season with a 7-0 record, equalling the mark set by the 1984 squad which included a fresh-faced Gene Waldron amongst their ranks. If memory serves, that team had a young English point guard who was just making his way in the game by the name of Paul James - I wonder whatever happened to him???
Little wonder then, that Paternostro won Coach of the Month award this week, although they were really lucky to remain undefeated when they should have lost to the Cheshire 24 hours later. Finding a way to win a game like that, however, can only be pleasing to Paternostro. Refuse to lose, victory from the jaws of defeat, whatever your cliché, Riders lived up to it.
Shock?
More on the Jets later, but first we have the cup quarter-finals this weekend. Having not learnt my lesson, I'm predicting Glasgow and Newcastle will make their way through to the semi-finals.
The other two games are 'pick 'ems' for me, I wouldn't be surprised to see them go either way. London could easily beat the Fraley-less Riders, but having seen what Leicester did last week, only a brave man would bet against the Riders. And though Surrey won on the road in Plymouth last weekend, would a Raiders' win in Guildford this week really be a massive shock? I don't think so.
Back in the Championship, I'm looking forward to my first trip to the new Emirates Arena in Glasgow. It looks like a beautiful venue and it's hosting what promises to be an exciting game as the Worcester Wolves are in town for our game on Sky Sports this week.
Again these look to me on paper to be evenly matched, so I'm hoping for another good one and also that the Wolves' boss is still talking to me after dating his playing career in earlier in this piece - sorry PJ!
Support
Obviously the big news of the week in the league concerns the Cheshire Jets and the BBL taking over the interim management of the franchise.
Sadly financial difficulties are a fact of life in modern sport, particularly in the current financial climate where it's hard for all types of businesses, whether you are selling electrical goods or sporting dreams.
We only have to look at what has happened recently in Rugby League to the likes of Bradford and Salford or Rangers and Portsmouth in football to see the harsh realities of life. Heck, even in the multi-billion dollar world of the NBA, the league ran the New Orleans Hornets for 18 months prior to agreeing a sale in the off-season.
I don't know the ins and outs, but what I do know is there are a lot of good people in Cheshire who have given a lot to the game and for their sake I'm hoping this is just a bump in the road. Certainly the noises I'm hearing are all positive, so hopefully something can be sorted pretty soon and the future of the club can be secured.
Having watched them on court last Saturday, they certainly have a decent team and their support was fantastic, so I wish them all the best.