Newcastle Eagles against Leicester Riders is a mouth-watering BBL clash, says Daniel Routledge
Leicester will need a fit John Fraley in their ranks if they are to finally win on Tyneside, says Daniel Routledge.
Last Updated: 25/10/12 1:55pm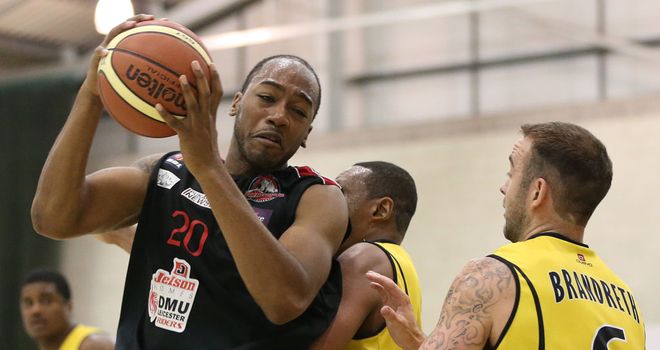 And could there have been a better game to start with than the visit of last season's league and play-off runners-up Leicester Riders?
Not only that, but the two sides are currently first and second in the table, both with undefeated records. With five wins Riders have made their best-ever start to a BBL season, whilst Newcastle's 7-0 record is just one shy of their club record, which they set last season.
It all makes for a mouth-watering game that I for one am really looking forward to.
Remarkable
One potential spanner in the works is the knee injury suffered by Leicester's summer signing John Fraley at the end of last Sunday's victory in Durham.
The first report I got on the injury was that it looked extremely serious, possibly even season-ending, but that was quickly tempered down to a two to three week lay-off when assessed by the physios as the swelling had started to go down early in the week.
I'm now hearing there is still a chance of him playing in this game, which would be a remarkable improvement from what sounded like a horrendous injury at the time. If our televised game does come too soon for Fraley, it will undoubtedly be a massive blow for the Riders as he has been their best player so far this season.
A quick check of the BBL stats leaders sees his name littered all over the categories - 11th in scoring, first in rebounding, second in field goal percentage, 10th in blocks - he certainly seems to give Riders an inside punch they lacked last year.
Threat
And they will surely need it against the Eagles, for whom newcomer Kareem Maddox has been receiving rave reviews, alongside the dependable Darius Defoe. You always need a good inside presence to keep the defence honest, especially when you have a perimeter threat like these sides do.
Joe Chapman and Charles Smith need no introductions to anyone, we all know how deadly that pair can be from behind the arc, but on the other side of the ball Jay Couisnard is a newcomer to the league.
His numbers have been a little strange this season; at John Sandford, where even the best shooters take some time to adjust to the unique surroundings, he's been over 50 per cent from the three-point line. Away from it, including the Riders home game in Loughborough, he's made just 3-for-20 from behind the arc. It seems a somewhat random stat, which for now I'll put down to a small sample size.
If Riders are to win, they'll need a big production from him especially if Fraley does not play.
Every time Leicester head to Newcastle, I have to come up with a new way of reminding us all how long it is since they won in Tyneside, my stat this time is there is a player on the Newcastle roster (Eddie Matthew) who was 18-months-old when the Riders last won up there!
A total of 27 consecutive victories is absolute madness, at some point it will have to come to an end, but my gut feeling is it won't be this week.
Whilst it's perhaps not surprising to see Newcastle, Leicester and Plymouth all getting off to a good start, perhaps the most eye-catching record in the BBL is that of the Surrey Heat.
With five wins in six games, they are looking pretty comfortable in third place in the table - it's a far cry from last year when they lost their opening 12 encounters!