One for the ages
Daniel Routledge previews Saturday's tantalising BBL play-off final between Newcastle and Leicester.
Last Updated: 11/05/12 11:03am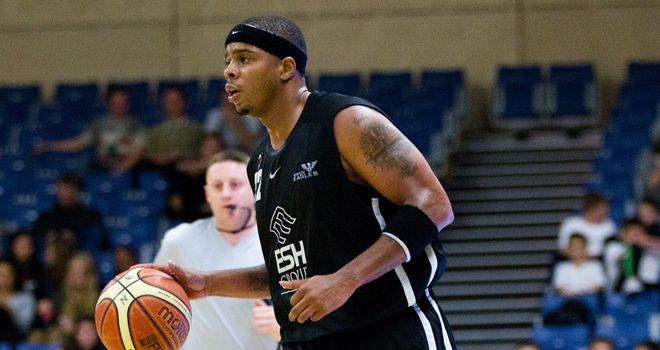 After a run of play-offs packed with surprises and upsets, we've somehow ended up with first against second in this weekend's final at the National Indoor Arena.
Both Newcastle and Leicester were behind after the first leg of their semi-finals, with the Eagles, in particular, looking in trouble, having gone down by 10 points at home.
But both our top seeds recovered to set-up a mouth-watering season finale this Saturday, which you can see live on Sky Sports 3 HD at 3.30pm.
The Eagles were in serious danger of not making it; by my maths they led for less than nine of the 80 minutes. But hey, as I've said before, you only need to be leading at the final buzzer, everything else is unimportant.
Credentials
I know there was much debate about the Player of the Year award this week, more than I can remember for several years.
Obviously I nailed my colours to the Ayron Hardy mast in my blog a couple of weeks ago, but if there was any doubt about Joe Chapman's credentials, he showed on Sunday exactly why he got the nod from the BBL coaches. Anyone doubting Joe's credentials is a fool; the choice between him and Hardy was merely nuance.
The man came back from what could have been a career-ending Achilles injury and led his team in scoring as they won the treble and maybe even the clean sweep.
C'mon now, even if you'd have picked someone else, you can't deny he deserves it, can you?
But back to the point, after 75 relatively quiet minutes, he went bang, bang, bang, three threes in a minute and the Eagles never trailed again.
Having done little in the two games, he showed the 'valuable' in his MVP award by winning the semi-final when it came to the clutch.
Facilitation
Funnily enough, Hardy did exactly what it was that put him in the running for MVP over the weekend as well, which is whatever his team needs.
On Friday, they needed some offence, so he went 9-for-11 for 21 points; on Sunday, just some defence and facilitation, so he only took five shots and posted a near triple-double nine points, 10 rebounds and nine assists. Not as spectacular as Cameron Rundles' 37, 7 and 7, but every bit as important.
Some will try and turn Saturday into some sort of head-to-head between them, but whatever happens will not take away from the spectacular seasons they have both had.
I was in Loughborough on Sunday and I'd like to congratulate the fans for their performance. It couldn't have been easy for Leicester playing away from their normal home, but their fans came out in force to support them in both rounds.
I also have to give great credit to the vocal Rocks' fans who made the five-hour trip south and supported their team tremendously well even when they were 20-points down. Talking to Sterling Davis afterwards, we were both impressed by the support his side got.
I've seen highlights from the Cheshire-Newcastle game and it looked like a great atmosphere up there, too, an excellent advert for BBL basketball over the weekend.
Existence
Back to the final and in terms of momentum, Leicester probably have the upper hand given how well they have been playing since the end of March. But the Eagles' refusal to quit when they easily could have in the semi-finals shows exactly why they are champions.
So now Newcastle have a chance to complete their second clean sweep having won everything in 2005/06 and Leicester have the opportunity to end what has been their best-ever season with a third major title.
Just to put that in perspective, Newcastle have won more major honours this season than Leicester have their 45 years of existence!
Interestingly when the Eagles swept the board in 2006, their league MVP was GB captain Drew Sullivan, who, of course, now plays for Leicester.
So who is going to win? Good question. Only a Riders fan or a complete fool would bet against the Eagles in a big game, but then who would deny this Leicester squad deserves a medal to go with their impressive season?
Back to the question then, who is going to win? Don't ask me, I've no idea!!! I keep going back and forth between them, but I'm looking forward to finding out because I have a sneaky suspicion that this is going to be a play-off final to remember.