Range finders
Daniel Routledge says Plymouth can win the BBL Trophy if their long-distance shooting is up to scratch.
Last Updated: 21/03/12 2:11pm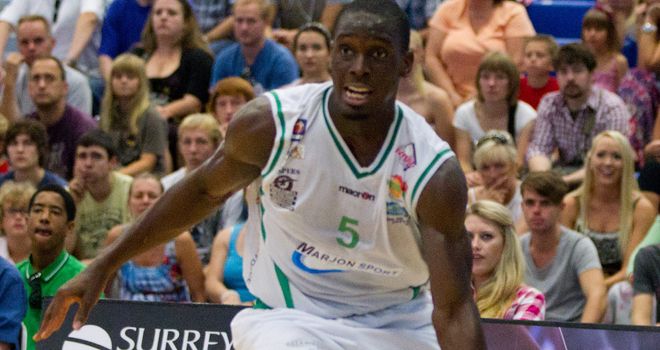 If I was a bookmaker, I'd have Plymouth as slight favourites in the BBL Trophy Final following their 97-88 victory over the Eagles in the first leg in Devon on Sunday night.
I'd certainly rather be a bookie than a punter in that match-up as I'm not sure I'd be comfortable putting much money against Newcastle overcoming the deficit.
After having big leads, and two massive wins, in the first three meetings between the sides this season, Newcastle haven't seen much of a lead in the last two games, certainly nothing near the ten-point win they now need.
But with offensive machines like Joe Chapman, Charles Smith and Paul Gause, if anyone has the firepower to win by double digits, it's the Eagles.
For me, the game, and the trophy, will be won and lost from 22 and 15 feet. If the likes of James Jones and Michael Ojo can stretch the Eagles' defence with some long-range shooting and the team can shoot at least in the 70s from the line, that should be enough for the Raiders to protect the their lead.
The Eagles shoot so well from behind the arc that you have to match them if you are to have a chance and the Raiders are ordinarily poor from the foul line, which can be costly against an efficient team like Newcastle.
After ending last season empty-handed, I've no doubt that the Eagles are gunning for all four trophies to prove that was just a minor blip and this is the biggest challenge to them sweeping the board.
Nailed-on
Whatever happens, the Eagles are absolutely nailed-on for at least a double in my mind. Any lingering doubts that Fab Flournoy's team are going to be our league champions were crushed in a 13-0 run late in their 87-79 victory over Leicester last Friday.
On Friday night I asked James Jones if he felt the Raiders could still catch the Eagles, he asked how they'd got on against the Riders and when I told him they'd won, his honest reply was 'no'.
I have to give Leicester some credit for their performance up in Newcastle, without injured centre Brett Royster I gave them no chance of beating the Eagles and when they were 32-16 down after 12 minutes it was no surprise to me.
But Rob Paternostro's men turned that around quickly and even led 77-72 with five to play, but that 13-point burst by the Eagles consigned the Riders to a 27th straight loss on Tyneside and confirmed, all but mathematically, Newcastle as league champs.
The rest are playing for second and it should be an intriguing battle between Worcester, Plymouth and Leicester for the runners-up spot. Second, they say, is just first loser, but for three clubs who've never finished that high before, it is still an honour worth having.
Of course it used to be that the runners-up would just get a gimmie in the first round of the play-offs, but looking at the quality of Guildford, Milton Keynes and Cheshire, I'm not sure whoever gets second in the league will be taking their play-off challenge for granted.
Silly
I saw a first in our televised game this week when Foxy, the Plymouth mascot, broke the backboard in his customary third-quarter dunk. I've seen a few boards broken in my time watching hoops, but never by a mascot! Although it did leave me looking a bit silly to my six-year-old son.
Only last week we were watching some old highlights of US college basketball where the backboard was broken and he asked me why he'd never seen anyone do it. I'd told him it wasn't possible with the modern equipment, only for Foxy to prove me wrong two days later!
Fortunately for Foxy, it didn't cost the Raiders a victory, although for a while it seemed like the 30-minute delay to replace the board might just have snapped their momentum against the Jets.
Foxy has gotten himself in some trouble this season, but it's hard to blame him this time around.
Condition
The shocking scenes at White Hart Lane on Saturday brought back sad memories of the death of Tony Penny during a BBL game 22 years ago. Like Fabrice Muamba, he was just 23-years-old, but unlike the Bolton midfielder he knew of his heart condition.
Despite being advised against continuing to play, Tony wanted to continue doing what he always wanted to do and found other doctors who backed his point of view. I remember his death, and that of another 23-year-old, Hank Gathers, in college basketball a week later, really rocking the basketball community at the time.
I'd just like to add my thoughts and prayers to those of the footballing world in hoping for a happy ending to the Muamba story.