A born natural
Daniel Routledge blogs on Player of the Year candidate Ayron Hardy - and a match he'll never forget!
Last Updated: 06/03/12 3:19pm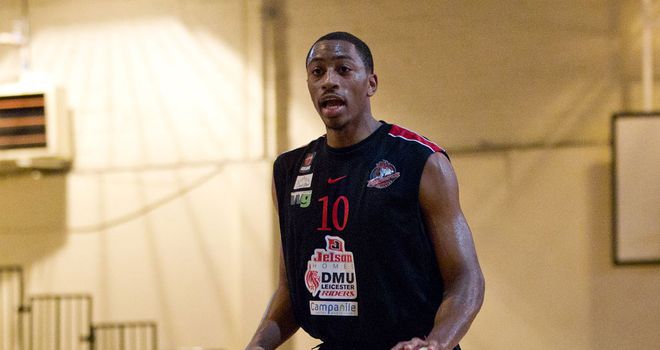 I think Leicester could become the most popular team in the BBL this Friday as they head to Tyneside to face the Newcastle Eagles.
They'll certainly be cheering for the Riders in Plymouth and Worcester, and I'd wager most BBL fans outside of Newcastle will be hoping Leicester can win and really throw the title race wide open.
Well, except maybe Milton Keynes fans, they may want to see a close title race, too, but probably not at the expense of their arch-rivals winning a game!
For Rob Paternostro's side to have any chance at the title, they need to at least take the head-to-head against the Eagles this season, which means winning a game in Newcastle.
With Plymouth impressively winning at Sport Central last Friday, the door was opened just a little for the chasing pack. If Leicester can follow suit then it will definitely be game on for a four-way title race.
Versatile
Bizarrely, Riders' away record is better than their home one in this league campaign and, even more surprisingly, Newcastle's two defeats this season have both come on their own floor. But before anyone adds those two factors up to a Riders' success, let me just give you two further stats.
The Eagles haven't lost back-to-back home games since April 2006 and the last time Leicester won in Newcastle, Tony Blair, who of course has close links with the Eagles through his sports foundation, was only four months into his tenure at Number 10. Twenty-five defeats in a row, I guess 'things can only get better' for the Riders?
What Leicester do have in their favour is Player of the Year candidate Ayron Hardy. I'm told it has been two years since anyone posted a triple-double in the BBL and then he comes along and does it in back-to-back games!
Is there a more versatile and efficient player in the league? I doubt it. He basically scores with three out of every four shots he takes, rebounds like a forward and passes like a guard. Who'd bet against a third trip-dub in a row for him?
And, of course, Andrew Sullivan is back on Tyneside and will doubtless be fired up to get one over his former team-mates.
My money would be on a home win, but for the sake of the title race, I'm hoping the Riders can sneak it.
Birth
Last week's televised game is one I will remember for the rest of my life. I know what you're thinking, 'but Daniel, it was a 20-point blow-out, Guildford were not at their best and Worcester cruised it, what's to remember in that one?'
All of which is true, but it was what happened afterwards that will cause me to be reminded of that game forever.
During the match my wife had gone into labour, so I had a mad 120-mile dash home to try and get there before the birth of my second son. I made it back just as Marie was on the phone to the hospital arranging to go in and Neo was born a couple of hours later.
Mother and baby are doing fine and many thanks to all in the British basketball community who've sent their best wishes.
So whilst it wasn't the greatest game in Guildford, I'll certainly never forget it and I'm just grateful we weren't in Glasgow or Plymouth!