Defoe 'da man?
Daniel Routledge analyses Darius Defoe's chances of sneaking into the GB squad for the 2012 Olympics.
Last Updated: 06/03/12 3:13pm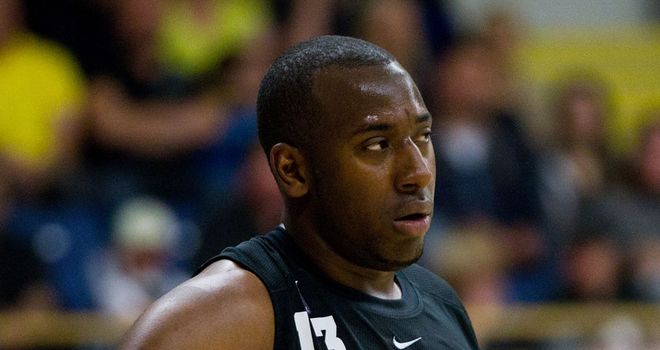 It was suggested to me on Saturday that Darius Defoe might just be making a late charge to get into Great Britain's Olympic squad.
His amazing display in Newcastle's stunning victory at Plymouth Raiders on Friday was the highlight of an impressive season by the power forward. I'll get on to his summer chances in a minute, but first I have to talk about the game itself.
Raiders fans must have gone through the full gamut of emotions on Friday night. Doubtless there was some trepidation beforehand, given their two previous thrashings by the Eagles, mixed in with a bit of optimism.
Frustration that another Eagle was having a career night against them in the first quarter, maybe some resignation as Newcastle built up a big lead in the second period. Disbelief as their team put on yet another fourth quarter rally and jubilation as they took a seemingly unassailable five-point lead with 30 seconds left.
Agony as Charles Smith did for them again with an overtime-forcing three-pointer and despair as the Eagles ran away with the game in the extra five minutes.
It'll be scant consolation for them that they witnessed an epic basketball game and I wonder what it will do for the psyche of the team - particularly Paul Williams, who missed two foul shots with 18 seconds to go that would have effectively won the game.
With that result, Leicester's defeat to Glasgow and Plymouth's loss in Guildford, it looks a mere formality for the Eagles to win the league from here. Doubtless they will point to the fact they still have five games to play against Worcester, Leicester and Plymouth, but those sides also play each other and it's hard to see the Eagles dropping three or four more than any of them.
Impressive
Back to Defoe now, and you have to be impressed with how he is playing this season. On Friday he posted 14 points and 12 rebounds, seven of them offensive, whilst hitting five of his eight shots including a couple of and-ones.
Great numbers I'm sure you'd agree, but those weren't his stats for the game, that's from the first quarter box score! He ended up with a staggering 25 points and 21 rebounds and had the triple-double that never counts with 10 offensive rebounds and 11 defensive.
Now one game does not an international call-up make, but from where I'm sitting I'd say Defoe is having his best season since joining the Eagles in 2004.
His biggest problem, as I see it, is his position. If he were a guard, then maybe he'd have a chance, but unfortunately for him Great Britain's strengths lie with its 'bigs.'
As good as Defoe's numbers this season are, Joel Freeland is posting better at Euroleague level and according to the efficiency rankings he's the second best player in Spain's ACB. Dan Clark and Robert Archibald are also plying their trade in what is probably the second best league in the world. Despite injury, Eric Boateng is also putting up decent numbers in Greece.
And I haven't even got to Pops Mensah-Bonsu, who had a double-double in the Turkish Cup Final recently and is top of the TBL with Besiktas.
So, as well as he is playing, I can't see Defoe making a late charge into the squad.
Sad
It was disappointing, if somewhat predictable, to read John Amaechi's latest thoughts on the state of British basketball over the weekend. I guess, if nothing else, it is impressive that he can profess to know so much about the BBL, given I don't think I've seen him at a game since he was playing in the league over a decade ago.
It saddens me that he uses the platform the game gave him to consistently knock it and I feel he undermines his own argument with some of his statements. The foreign players' argument is so boring it's untrue and it's an argument that was lost at least 15 years ago. And that's ignoring the fact it's technically illegal.
Look around the world, in virtually every sport, wherever you go there are foreign players. I did a EuroCup game last week featuring Mike Lenzly's Nymburk - are Czech fans moaning that six of their players are not from the Republic? And are their opponents Riga, who have the same number of non-Latvians? No, it's about wins and losses. It's time to move on.
To hanker after some pre-Bosman, pre-Kolap idealism is pointless and actually counter-productive. At the national team level, British basketball is better for having all the above (and many more) playing in the leagues in which they do. Even Amaechi, who was dismissing their chances not so long ago, now concedes 'they won't embarrass themselves' - high praise indeed.
The 'no coaching in the BBL' remark was really quite extraordinary given our proximity to the Olympics, which will feature two coaches who began their careers in the BBL. How many leagues can lay such a claim?
The sad truth is somewhere in there are some valid arguments, the lack of facilities and the exorbitant costs of those that are available for example, but these are hardly the fault of British basketball.
Funding
How about asking Sport England why, when their own figures say three times as many people play basketball as rugby league, they've invested three-and-a-half times as much money into rugby league as they have into basketball? Or twice as much in netball, which, whilst it has more comparable figures, is still a way behind in terms of participation.
Don't get me wrong, I'm not saying those particular sports don't deserve their investment, just that basketball would appear to be disproportionately under-funded compared to pretty much every other sport.
Surely these are the questions a man of John's undoubted standing, intelligence and eloquence could be asking on behalf of the sport?
But he chooses not to and for a man who I once heard on commentary say 'I don't really like basketball', I only wonder why he persists in talking about it.