Arc of triumph
Daniel Routledge checks out Worcester's three-point success and an epic Tommy Freeman display.
Last Updated: 14/02/12 5:04pm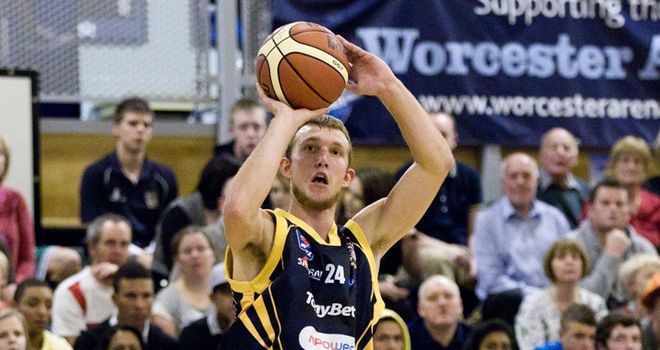 A phenomenal performance from Tommy Freeman kept Worcester Wolves very much in the title hunt at the weekend, with an impressive 20-point win over fellow title-chasers Plymouth Raiders.
Freeman shot a staggering 11-from-14 from the floor including 7-for-9 from behind the arc and a perfect 11-of-11 from the foul line for an epic 40 points. He obviously has an eye for a big game as he had a similarly impressive shooting display when the Wolves won in Newcastle before Christmas.
The Wolves made an impressive 16 three-point shots from only 28 attempts and that, for me, is their key to success. If you want to beat Worcester, you have to flush Freeman, Sherrard Prezzie-Blue and Arnas Kazlauskaus off the three-point-line.
Worcester lead the BBL in three-point shooting percentage and number of threes made per game, with basically 30 points a game coming from long range. And when you look at the numbers of those three guys specifically, you can see why the three-ball is such a potent weapon for the Wolves.
Combined they average a whopping 42 per cent from behind the arc, which makes them the deadliest long-ball trio in the BBL.
Against
Freeman's 40-point performance also triggered another thought in my head - Plymouth seem to be the team to put up a big number against at the moment don't they?
Obviously we had Charles Smith's performance for the ages in the Cup Final, Mychal Green had a stunning display against them in our televised game a couple of weeks ago and then Sheffield's Jimmy Langhurst followed up Freeman's performance, with 31-point game against the Raiders on Sunday.
I looked back at the numbers and in the Raiders' last eight games, from the Cup Final onwards, someone has posted at least 25 points against them on seven occasions. In four of them, they've gone for 30-plus.
To be honest, I'm not even sure what that stat means, especially when you consider the Raiders won five of those games and when it comes to points against, only Leicester give up fewer than Plymouth. One thing is for sure, though, I bet it's driving Coach Gavin Love nuts to keep seeing an opponent having a stellar night against his squad!
Rivalry
This weekend we have some really intriguing match-ups in the race for play-off places. Guildford were super-hot a couple of weeks ago, before defeat in our televised game in Glasgow and then on Sunday they had a disastrous shooting display at home against Mersey (8-for-42 in the first half, ouch!).
If they want to catch the Sharks in the table they can ill-afford another loss, but Sheffield away on a Friday night is a really tough ask for any team. Milton Keynes are level with the Sharks on a 7-9 record and they'll have Daniel Northern back after suspension for the visit of arch-rivals Leicester on Friday.
The Riders looked back to their best in our televised game at Durham this week, but anything can happen when these two teams meet such is the fierceness of that rivalry.
Mersey got a much-needed win at Guildford on Sunday without suspended coach Tony Garbelotto and injured captain Dave Aliu. That result should give them a confidence boost, but it's hard to pick anything but an away win with Plymouth in town. The Lions have the sort of team that could beat Worcester away, but on the back end of a double-header against a fresh Wolves squad, it might be a bit of a stretch for them.
And Cheshire head into our televised game in Glasgow on the back of consecutive wins and with a new big man, Milan Psaltou, in the line-up, so their confidence will be up. Given how the table is shaping up right now, it promises to be a great weekend.
Circus
Just away from BBL for second, it was great to see GB star Luol Deng named as an NBA All-Star last week. Luol has been having a terrific season for the Chicago Bulls and thoroughly deserves the nod.
Oh and I couldn't sign off without tipping my hat to Christian Beale, the Guildford Heat supporter who won a season ticket by hitting a shot from the halfway line in the third quarter break on Sunday. As if it wasn't hard enough, he did it back to basket over his head and swished it home. Even the refs punched the air!
The irony of someone from the crowd hitting a circus shot from the halfway line, given how badly the Heat had shot up to that point, was surely not lost on all who were there.