The late show
Daniel Routledge talks dramatic endings to BBL games and dissects this season's title race.
Last Updated: 31/01/12 9:45am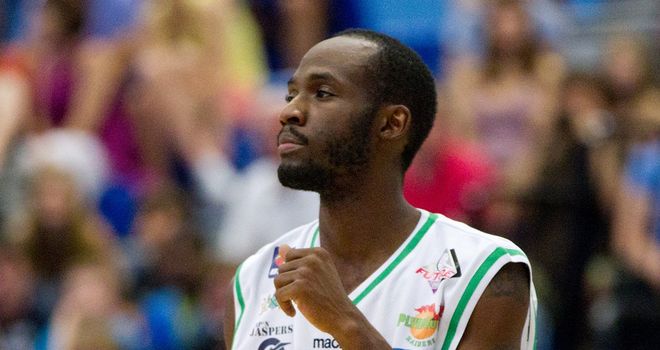 There are many ways to win a game, but the manner in which Plymouth Raiders did it last weekend is surely the most entertaining.
Twenty points adrift with a minute and some change to go in the third quarter, the Raiders had room to spare by the time the buzzer sounded against the Glasgow Rocks.
Basketball is a game of runs. It always frustrates me when the uninitiated say 'well it's just you score, we score' because in all my life I've only ever seen one game like that. It's all about ebb and flow and nowhere reflects that swing better than the BBL.
Just look at the last two weekends. Sharks had a nice lead late on against the Wolves, but needed a Jimmy Langhurst basket in the dying seconds to win. Meanwhile, Leicester were up 20 in the fourth, but only ensured their victory over the Jets by scoring the last four points of the game.
Durham were 18 points down in the first, but took the lead in the second quarter against Cheshire on their way to only their second win of the season. Plus, Milton Keynes had a 25-point lead at Leicester and required a three on the buzzer to win. And that's just the ones I can remember off the top of my head!
And then we have the Raiders. Fifteen points down at the start of the fourth quarter, they were in the lead before Glasgow could score a basket in the last stanza. It was breathtaking stuff.
Cruising
I felt for Glasgow, they put a lot into that game and it would have been an impressive double-scalp beating Leicester and Plymouth back-to-back on the road, but from a neutral perspective it was the perfect final 10 minutes.
Winning when it looks unlikely is far more exciting than cruising and boy did the Plymouth fans reflect that.
I always enjoy my trips to Devon; it is one of the most atmospheric venues in the BBL. But I've never heard it as loud in the Pavilions as it was during that 17-0 stretch at the start of the fourth quarter. It was thrilling stuff.
It's easy to rave about a 35-40 point performance, so let me just do that for a second... Anthony Martin was sensational! Didn't see his name in the top scorers? Nope, that's because he only scored seven points, but his 14 assists means he was responsible for at least 35 points and was definitely the difference-maker.
He said to me afterwards his mother always taught him to share, so he's just doing what she told him!
Frailties
We're basically halfway through the season now so I guess it's about time I put my neck on the block and picked a league winner. Well it might look like a cop out but, if I was putting money on it, I'd be backing the Newcastle Eagles.
Early in the season I wondered if they had some frailties, whip over Christmas I worried if playing all those games in Holland would take its toll, but having seen five of the top six over the last over the last two weeks, I can't see past Newcastle.
I think the winner can only come out of the top four because the rest have too many defeats already, so let's look at the challengers.
Worcester are a team I really like and definitely a team who can challenge. But are they a bit thin inside if Richie Gordon gets into foul trouble? And with four defeats already, can Paul James' squad go to the end of the season without losing more than a game or two, which is as many as they can afford?
Plymouth are definitely a championship-calibre roster, but eight of their 11 games so far have been at the Pavilions. That means they've a lot of away games to come. Can they grab enough road wins to finish in first place? And have Newcastle got the psychological edge over them after two thumping wins?
Quirk
Leicester have wobbled in the last two weeks with two home defeats in a row, something I don't think they can afford. My reckoning was their chances required a 100 per cent home record, given the quirk of fixtures which sees them play 16 away games and 14 at home.
Can their impressive road form overcome that and the fact they Newcastle, Worcester and Plymouth away twice and home only once? Plus, can any team really win the league when they can barely make one-for-two from the line on every trip?
And then there is Newcastle. More home games than away, all three of their rivals have to go to Sports Central twice and the fact that they look pretty unbeatable right now.
Three teams with six unanswered questions and Newcastle with the benefit of the kinder schedule. Not hard then to lean towards the Eagles.