Sturt's fine finish
Daniel Routledge blogs on Adrien Sturt's last-gasp heroics during Milton Keynes' win over Leicester.
Last Updated: 24/01/12 11:06am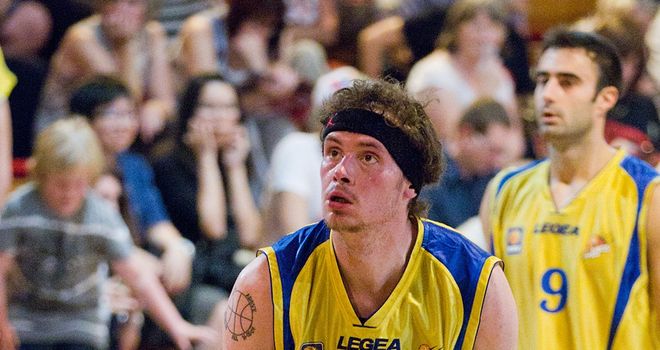 I had the pleasure of being at a wild and wonderful BBL contest on Saturday night as Milton Keynes edged out Leicester Riders.
If you were looking for a game to sum up the best of BBL basketball, this would have been it: massive swings, highlight plays and thrills right down to the very last second... indeed, less than the very last second!
It was all played out in a tremendous atmosphere and in front of a sold-out crowd. They had to turn some latecomers away at John Sandford Sports Centre as there was no more room at the inn. It was truly standing room only.
Milton Keynes and Leicester have developed a real rivalry in recent years, so obviously there was a good contingent of away fans, which always adds to the atmosphere.
I thought it was a nice touch that one of MK's leading supporters was wearing a 'Youngblood is a Lion' T-shirt, after a sneaky Leicester fan had got into our Sky Sports coverage of Milton Keynes v Newcastle a couple of weeks ago with a 'Yorick is a Rider' T-shirt.
The fact that players seem to head back and forth up the M1 between the clubs has intensified the rivalry and therefore sometimes meetings between these sides get a little fractious. But there was none of that on Saturday, just two top-quality teams playing hard.
However, for the first 12 minutes it was just one top-quality team as Milton Keynes ran riot. Leicester couldn't buy a bucket and Demarius Bolds made them pay with some of his usual excellent transition play.
Daniel Northern had a stunning highlight with a high-flying slam dunk rebound that moved the basket as the Lions opened a 25-point lead - but Leicester finally found their form and made a real charge at it.
Closing stages
It looked like they were not destined to get into the lead, however, as every time they had an opportunity they blew it and MK stayed in front during a tense second half.
I was a little surprised that the Lions tried to run down the clock in the closing stages as they are so deadly at a much faster pace, but it worked for them. When Cameron Rundles gave Leicester the lead with 21 seconds to go it looked like the Riders might just steal it, but no-one told Adrien Sturt that.
It was deafening on that last play and such is the cosiness of the John Sandford that when he let fly his game-winning three-pointer, he could barely have been more than a few inches away from the home fans roaring at him to miss.
But he calmly slotted home a swish with 0.6 seconds on the clock to give MK the victory. Sturt hadn't shot that well in the game, but he didn't shy away from the big one and, from where I was stood, it looked nothing but net from the moment it left his hand.
Great game, great finish, great atmosphere, everything that's good about British basketball.
Unknown
Sticking with the Riders for a second, I loved the story coming out of Leicester about the day the reigning NBA MVP was humbled.
In an interview, Chicago Bulls superstar Derrick Rose was asked who the toughest player he ever played against was.
His reply was: "Man, the only person that really served me, really, really served me, I don't even know this boy's name... it was some boy, he was from Minnesota, he played for a Minnesota team, they came into Chicago, and I was playin' up. And he served me, I can't lie."
Apparently this unknown kid from Minnesota was none other than Riders' guard Cameron Rundles. Seemingly he lit D-Rose up for 38-points in a High School game, but stopped telling the story after Rose's rise to fame because no-one believed him.
I can't verify the story, but Cam is '1000 per cent sure' it was him that Rose was referring to and it seems plausible enough.
Plethora
I had the pleasure of Sterling Davis' company in this week's TV game and spent a long time talking with him about all things British basketball. He's struggling with a plethora of injuries with the Glasgow Rocks, including his own.
He was telling me EJ Harrison is due another scan this week to try and finally find out why his ankle is not healing, but there is no doubt that he is a huge miss for the Rocks.
I'm not expecting him to play in our next televised game down in Plymouth, but I hope he gets back to playing soon as he is a top-drawer player in the BBL.