The stuff of legend
Daniel Routledge hails Newcastle's Charles Smith for one of the all-time great final performances.
Last Updated: 17/01/12 12:03pm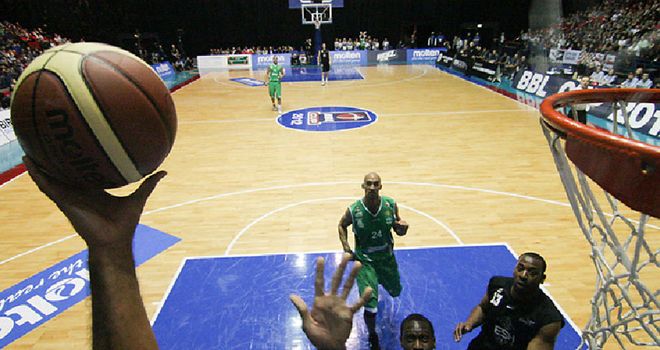 Well I have to admit, I didn't see that one coming. Newcastle's dominance of the Cup Final certainly caught me by surprise.
Before the game I was edging towards the Eagles, but that was just based on their experience. I figured it would be a tight game and both sides had a legitimate chance to win it.
One thing I did get right though, was tipping Charles Smith and Lehmon Colbert for big offensive nights in last week's blog. OK, not exactly rocket science I know, but I had a hunch Smith would put on an MVP display.
What I didn't expect was that he would put on one of the all-time great final performances. If Plymouth had made a run at it, I reckon he'd have gone for at least 50 points. As it was he didn't need to score in the second half and settled for 39, which was a Cup Final record. His 14 field goal makes was also a final record.
There is something magical about 40, so I'd like to have seen him get one more point, but to my mind it was one of the greatest final performances I've ever seen. His first half was probably the most dominant spell of individual scoring I've seen since John White poured in 28 of Manchester's 32 first half points on his way to 45 in a Sky Sports game back in January 1999.
Tremendous
In the first quarter Smith outscored the Raiders on his own 21-20 as the Eagles built a 15-point lead. And talk about efficiency, he made 14 of his 16 first half shot attempts, just one missed free throw and one missed field goal in 20 minutes - absolutely stunning.
All that and he played most of the first period without a contact lens after losing it on his opening three-point shot. How many would he have got if he could actually see in the first ten minutes?
The cliché would be to say the 36-year-old veteran rolled back the years, but in truth his scoring numbers have been going up the older he's got. Hard to believe he considered retirement in the summer.
Newcastle poured in staggering 63 points in the first half, with Smith bagging essentially half of them. To put that into context, it was just a basket short of their final score in their previous Cup Final appearance.
Now it would be easy to criticise Plymouth's defence for allowing so many points, and I certainly felt they should have been throwing some double-teams at him, but I don't want to take anything away from Smith's tremendous shooting display, so I'm sticking with his brilliance.
Benchmark
The scoring records for the other two major finals are held by Richard Midgely (36 points in the Play-off Final) and John Amaechi (40 points in the Trophy Final).
Both were scintillating performances but I'd put Smith slightly ahead because he won the game and then let his team-mates get some points in the second half. He wasn't bothered about putting a massive number on the board when it was there for the taking; he just played his role in winning the game. Fifty was well within his reach, he just didn't go for it.
Midgely's performance is downgraded ever so slightly by the fact his team ended up three points short of the epic comeback his display so richly deserved, but to me it was more enjoyable to watch than Ameachi's 40.
And Amaechi was overshadowed by Terrell Myers. Ask anyone what they remember of the 1998 Trophy Final and it is Myers' game winning three-pointer rather than Amaechi's low post and free throw shooting clinic.
As Rob Paternostro said in commentary, it was a performance for the ages by Charles Smith and to me arguably of the greatest ever in a BBL final. And before any older basketball fans complain, I've been deliberate in my use of BBL there, yes I remember Colin Irish and his 47 points in Play-off Final in the pre-BBL days of 1985 and to me that is still the benchmark big game performance.
But if Sunday's Cup Final had been as close as the '85 Play-off Final, I think Smith had every chance of eclipsing even that legendary display. He didn't need to, so he didn't.
While we're on the topic of great performances, how about Richie Gordon's 30 points and 20 rebounds against Durham as the Wolves moved level on points with Newcastle at the top of the table. The Wildcats only had 29 rebounds as a team, and the rest of his Worcester team-mates combined for only 14, so that is what you call domination of the boards by Gordon!
Newcastle have the chance to move clear again this weekend and we'll be covering their match against the Sharks. Doubtless there will be some sort of ceremony with the cup, but I know Fab Flournoy will have his players focused on the task in hand.
Plymouth also have a tough home game as they look to bounce back from the defeat. A couple of months ago Guildford would have looked like an easy match-up for the Raiders, but the Heat go there on the back of four wins in five and look resurgent after their mid-season changes.
The Raiders need to get Sunday out of their minds as soon as possible because, as Mersey proved last year, taking a beating in the Cup Final can act as catalyst to a successful season.