Points to a classic
Daniel Routledge says Plymouth and Newcastle could serve up a cracking BBL Cup final.
Last Updated: 13/01/12 4:06pm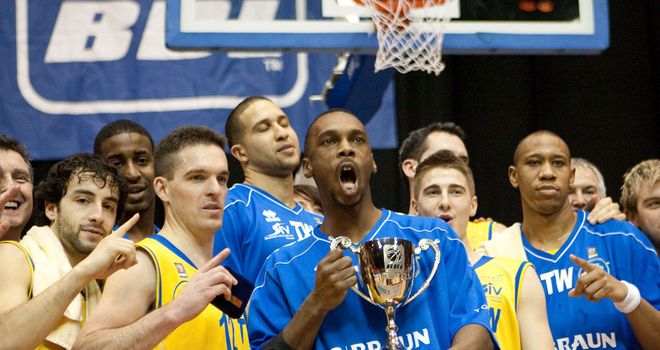 This Sunday is one of my favourite days in the basketball calendar, the BBL Cup Final.
There is something magical about Cup Final day and it's not just about the glory. I think the timing has something to do with it as well.
That just after Christmas, just before the hard slog of the 'back straight' of the season, seems just the right time to be handing out the first silverware.
I'm obviously not the only one who thinks that either, as fans from around the country always flock to the NIA in mid-January. It's always a good place to catch up with old basketball friends.
Close
The BBL Cup has been a tough one to call over the last five years, with three three-point thrillers and two one-sided blow-outs, but my money would be on another close one.
Last season we were stunned by Sheffield's demolition job on Mersey, mainly because few people gave the Sharks any chance of winning, yet they dominated the game. But this time around I don't think there will be a surprise winner, whoever lifts the cup.
At the start of the year I reckon most of us pencilled these two squads in for honours this season and three months in the only thing that has changed is maybe we're using a pen now!
The Raiders, of course, will be looking to exercise the ghosts of three years ago when they seemingly left their game in Devon and were wiped out by a record margin.
Plymouth fans will doubtless have blocked out that 103-49 trouncing by the Tigers, preferring instead to recall the Trophy final of 2007 when they beat the Eagles in Newcastle.
Both of those finals are far enough away not to matter come tip-off time on Sunday, but I also wonder how much you can read into their one league meeting this season. The Eagles beat the Raiders 90-67 back in November.
I think the Raiders have got better since then, and the Eagles too if I'm honest, plus given the 400-odd miles between them, it's hard to win on the road in this rivalry.
The NIA is almost to the mile the midpoint of that journey so neither will have the upper-hand in that regard.
Key
Looking at the two squads, originally I'd have thought an up-tempo game might suit the Raiders more than Newcastle, but having seen the Eagles mix it with one of the best breaking teams last week I'm not so sure.
Milton Keynes push the ball as well as anyone, but Newcastle showed they can play that style of game with their 96-91 victory. Certainly Paul Gause looks as good as anyone in the BBL in the open floor.
I think two key guys in this game are Jeremy Bell and Darius Defoe. It goes without saying Newcastle are going to have to control Bell; if he goes for a big 30-plus game like he did in the semi-final first leg, then Plymouth become close to unbeatable.
That's not to say you can sleep on someone like Michael Ojo, but I think Bell makes shots others can't and so it starts with him.
Newcastle need Defoe on the court for his rebounding and his defence, they can't afford him to get into early foul trouble or I think they will have problems with Plymouth's frontline.
He and Andy Thompson have an important role to play in the Eagles' defensive system. It should be an intriguing match-up against the much-underrated Paul Williams and Raiders' captain Anthony Rowe.
Joe Chapman will be back for the Eagles after a spell on the sidelines with a hamstring injury and he gives them an extra explosive option in the backcourt. I spoke to Joe last Sunday and he is chomping at the bit to get back out onto court.
Cracker
That is one of the intriguing things about this game, there are six or seven guys who you could see easily going for 25-30 points. If I was betting on it, though, I'd be hedging towards Lehmon Colbert and Charles Smith.
I think this game is set up for that mix of inside-outside threat and these are two of the best in the league. Talking to Eagles assistant Dave Forrester last week, he was telling me what fantastic scoring form Charles has been in over the last month or so, but he then went and had an off night at Milton Keynes.
I don't foresee that happening again as he has proven himself to be a superb big game player and it wouldn't surprise me at all to see Charles or Lehmon in the MVP running.
All in all, it's setup for a cracker this Sunday and, of course, you can see it live on Sky Sports. All that's left is for me to pick a winner... anyone got a coin?