Arc of triumph?
Daniel Routledge examines how recent changes to the three-point line are affecting the game.
Last Updated: 03/01/12 10:11am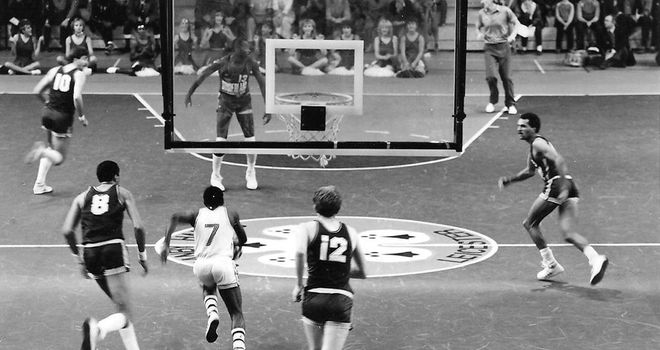 First of all, Happy New Year to you all!
As the years continue to roll by, I must confess to remembering when they first brought the three-point line into British basketball.
I'm not sure we realised it at the time, but I would argue in terms of impact on the game, it's been the second best rule change in the history of basketball. For the record, I'd give the nod to the shot clock, given an NBA game featuring George Mikan, one of the greatest players of all-time, finished 19-18 before its invention in the 1950s.
It's funny now to think of a court without an arc, so I dug through my old archives to find a picture of one. The whole spacing of the game relies on the line, so much so I can't remember how they coped without it.
Off topic for a second, Worcester boss Paul James was telling me the other week how his players joked at the fact he used to play in Chuck Taylors as a youngster. "You must be really old, coach," they laughed.
So when looking at this black and white photo of the court before the three-point line, just don't ask me who the number seven looking to push the ball is!
Difference
Anyway, when they lengthened the three-point line by 50cm in the summer, I must confess to being somewhat underwhelmed. As far as I could see, it wouldn't make much difference.
You're only talking about a foot and a half, good shooters won't be affected, maybe the four-man who takes the occasional triple might struggle, but overall the difference will be negligible.
And yet maybe I was wrong after all. Three-point shooting percentages are down a couple of percentage points on last season. Worcester, who lead the league with 35.5%, would have struggled to make the top three in last season's category with that average.
And three teams are currently shooting below the lowest mark set by Essex last term. I picked out about 20 guys who played last year and this, and on average they are down three percentage points.
Even good shooters like Charles Smith are down on last season. This is what is most surprising to me is it's not just the occasional three-ball shooters who have struggled.
It will be interesting to see if this is just a temporary blip as players get used to it, or if it continues through the season and really does have an impact on the game.
Surprise
There were a couple of eye-catching results over the festive period, particularly the top of the table clash between Worcester and Leicester. I was surprised to see the Riders win that game by such a big margin, their road form has been fantastic so far this season and that was a real statement to go to the Wolves and win by 24.
And then the Rocks' victory over the Sharks caught me by surprise last Friday night. Without EJ Harrison and Sterling Davis I wouldn't have put my money on a home win in that one, but credit to Danny Huffor for another excellent display for the Rocks.
As we move into the Olympic year, I noticed former BBL coach Bob Donewald was sacked by Xinjiang in China after just 11 games in charge.
Xinjiang signed him for a reported four-year, $4-million dollar deal in the summer but the 7-4 start to the season wasn't what they'd hoped for and, as ever in the CBA, they were quick to pull the trigger. The turmoil around Kenyon Martin and the NBA lockout can't have helped his cause either. Still it apparently won't affect his job with the Chinese national team so he should still be in London this summer.
Spending some time with him last summer at the Asian Championships I hope that is true, because coaching at the Olympics is his lifetime ambition.
The BBL is back in full swing this weekend and I'm intrigued to see how Newcastle get on after a hectic festive period in Holland. They finished fourth in the Basketball Days Tournament, but suffered injuries to Paul Gause, Fab Flournoy and Joe Chapman. I'll be interested to see how much toll the tournament took on them in our Sky Sports game at Milton Keynes.