Shot in the Arn
Arnas Kazlauskas has a unique shooting style, says Daniel Routledge, but he is a three-point machine.
Last Updated: 13/12/11 12:00pm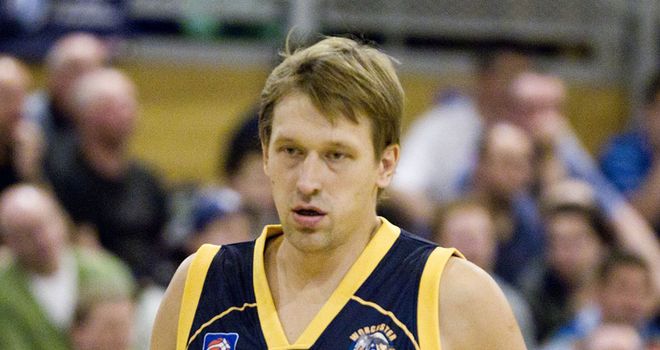 It's one of the eternal truths of basketball: the big Lithuanian centre can shoot the three. Who knows what's in the water in Kaunas and Vilnius, but those big guys just love to stroke the three-ball.
Okay, so Worcester's Arnas Kazlauskas is not quite Arvydas Sabonis, but at Guildford on Sunday, he showed some amazing touch from behind the arc. It's just a shame we didn't have a commentator's cam to capture Mike New's reaction as triple after triple was swished home by the big fella.
Mike wasn't adverse to a three-point shot in his time, but even he couldn't believe some of the shots Kazlauskas was knocking down.
Sherrard Prezzie-Blue, Richie Gordon and Tommy Freeman might have won the game down the stretch, but it was Kazlauskas who was getting it done in the first half.
You won't find Arnas' shooting technique in any coaching manual, in fact, if there was a how-not-to-shoot manual, you'd probably find a picture of him in it. But as Tim Tebow is proving in the NFL, style doesn't matter, it's results that count.
Fun to watch
It may only be early December, but Kazlauskas is already in the running for my most-fun-to-watch starting five this season.
Fortunately for me, and the Sky Sports viewers, we get another chance to see him next week as the Wolves take on Plymouth Raiders in the cup semi-final second leg at the Pavilions.
On the other side of the ball is a player who made it into that line-up last term, Jeremy Bell.
Bell was Player of the Year last season and I would say he got the nod from the BBL coaches not only for his undoubted scoring ability, but also his durability.
He led the league in minutes played last season, averaging over 38 a game and I remember a spell of matches at this time last year where he posted 26-plus points in seven games out of nine.
Top scorer in over a third of the games he played in, led the league in scoring, plays virtual the entire game every night - yeah, it's hard to see how Bell garnered all those MVP votes from the coaches!
Coming into the Raiders' line-up a little late in the campaign, he's 'slacking' a bit this year with only 19 points and 36 minutes a game, but I'm convinced both those numbers will be higher by the end of the season.
On the subject of minutes per game, the current BBL ironman is Bell's former Jets team-mate Colin O'Reilly, with a seemingly implausible average of 40.3 minutes per game!
Desperate
It promises to be great semi-final match-up with Worcester looking to get to their first ever major final and the Raiders desperate to get back there and erase the memories of their record-breaking loss to the Mersey Tigers in 2009.
Newcastle await the winners after their eight-point victory over Leicester and with a trophy semi-final still to come, and an undefeated 7-0 record in the league, Fab Flournoy's men look set to add to their silverware haul after going trophy-less for the first time in seven years last season.
Christmas is coming, the goose is getting fat and Newcastle are the team to beat in the BBL... some things never change.