NBA: Indiana Pacers improve to 7-0 in the new season after seeing off the Nets
Last Updated: 10/11/13 9:20am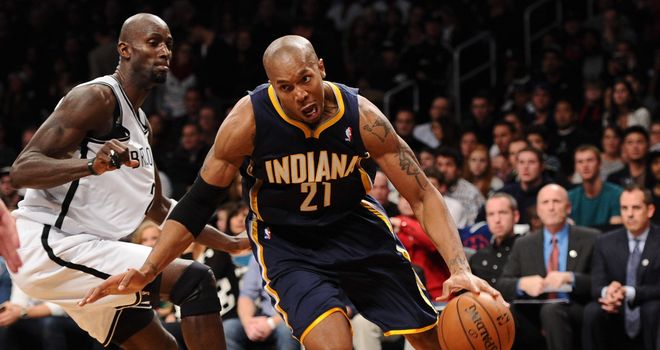 Indiana Pacers improved to 7-0 on the season following Saturday's victory over the Brooklyn Nets
The Indiana Pacers are out to the best start in franchise history after extending the only unbeaten record left in the NBA to seven games, beating the Brooklyn Nets 96-91.
Paul George had 24 points while David West added 18 as they dealt Brooklyn a first home defeat of the season.
After a slow start, the Boston Celtics confirmed their revival is for real as they topped the Miami Heat 111-110 for their third win a row.
Jeff Green hit a buzzer-beating three-pointer to seal the win, which was only confirmed on a video review. Green finished with 24 points for Boston. LeBron James had 25 points with 10 assists for Miami.
Saturday's NBA results:
Hawks 104 Magic 94
Nets 91 Pacers 96
Cavaliers 127 76ers 125 (Double OT)
Rockets 94 Clippers 107
Grizzlies 108 Warriors 90
Heat 110 Celtics 111
Bucks 83 Mavericks 91
Kings 85 Blazers 96
Raptors 115 Jazz 91
The Cleveland Cavaliers needed two overtimes to beat the Philadelphia 76ers.
Kyrie Irving hit the winning shot with 0.6 seconds on the clock, taking him to 39 points on the night.
Second-half comeback
The Los Angeles Clippers reeled off an 18-0 run in the second half as they came from behind to beat the Houston Rockets 107-94, with Blake Griffin and JJ Redick scoring 22 points each.
Zach Randolph had 23 points and 11 rebounds to lead six Memphis players scoring in double figures as the Grizzlies beat the Golden State Warriors 108-90.
Tyler Hansbrough's 23 points helped Toronto beat the Utah Jazz 115-91, only their second win in their last six.
The Orlando Magic's search for a road win continues as they lost their 15th straight, going down 104-94 to the Atlanta Hawks who got 19 points and 13 assists from Jeff Teague.
Monta Ellis returned to haunt his old team as he registered 18 points and five assists for the Dallas Mavericks in a 91-83 victory over the Milwaukee Bucks.
The Portland Trail Blazers made it four wins out of five as they beat the Sacramento Kings 96-85, with LaMarcus Aldridge collecting 22 points and 14 rebounds to lead the way.