NBA: Indiana Pacers record fifth straight win to remain unbeaten
Last Updated: 07/11/13 6:08am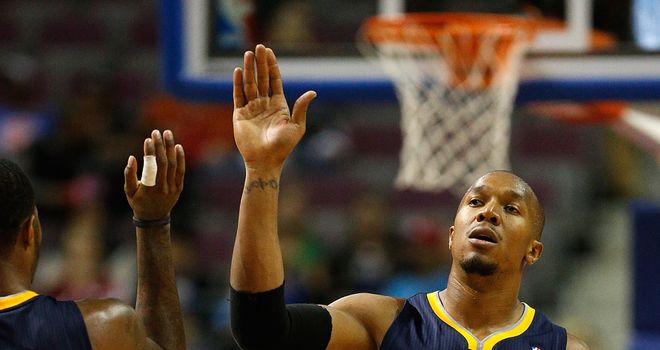 David West: Had 17 points and 13 rebounds for Indiana Pacers
The Indiana Pacers needed a late surge to hold off the Chicago Bulls and retain the last unbeaten record in the NBA with a 97-80 victory.
Paul George scored 21 points while David West had 17 points and 13 rebounds for the Pacers, who needed a 12-2 fourth quarter run to put away the Bulls.
The win leaves Indiana at 5-0 for the first time since 1971.
Kevin Durant had 23 points and 10 assists while Russell Westbrook showed flashes of his brilliant best in scoring 22 points to help the Oklahoma City Thunder to a 107-93 victory over the Dallas Mavericks.
It was a second straight win for the Thunder following Westbrook's return from two knee surgeries.
The Boston Celtics finally claimed their first win of the season as Brandon Bass scored 20 to lead them to a 97-87 victory over the Utah Jazz, who themselves remain winless.
Monster
The Washington Wizards also broke their duck for the season as they beat the Philadelphia 76ers 116-102 behind 24 points from John Wall, who hit five three-pointers.
Nik Vucevic poured in 30 points and grabbed 21 rebounds in a monster performance as the Orlando Magic beat the Los Angeles Clippers 98-90
Gerald Henderson put his early-season shooting troubles to one side as he scored 23 and lifted the Charlotte Bobcats to a 92-90 victory over the Toronto Raptors.
The San Antonio Spurs held off a late charge from the Phoenix Suns to win 99-96. Tony Parker scored 15 of San Antonio's final 16 points on his way to 20 overall, and gave the Spurs the lead for good after Phoenix edged ahead inside the final minute.
OJ Mayo had 28 points, 18 of them on three-pointers, as the Milwaukee Bucks edged out the Cleveland Cavaliers 109-104, while Eric Gordon's 19 points led the New Orleans Pelicans to a 99-84 victory over the Memphis Grizzlies.
Klay Thompson poured in 30 points as the Golden State Warriors beat the Minnesota Timberwolves 106-93.