NBA Play-Offs: Alex Ferguson looks at Heat v Pacers and Spurs v Thunder
The Eastern and Western finals have begun but there's a long way to go - Alex Ferguson gives his picks...
By Alex Ferguson
Last Updated: 20/05/14 2:25pm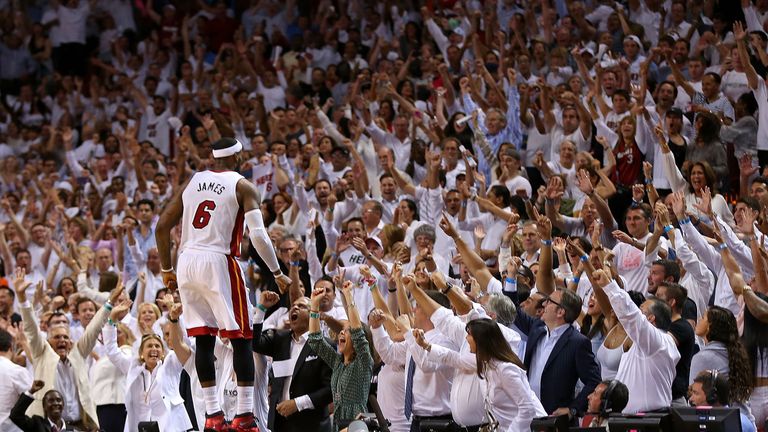 Eastern Conference Finals: Miami v Indiana
LeBron James prefaced the first game of the series by saying in the Heat locker room: "They don't like us and we don't like them", which is about right in one of the NBA's best modern day rivalries.
You know about the Heat. Ray Allen with the last-gasp three-pointer to win it all in 2013. LeBron. Chris Bosh. Dwayne Wade.
You probably don't know a whole lot about the Indiana Pacers, who owned the Eastern Conference's No.1 seed after a spectacular regular season and owned the Miami Heat in Game 1, 107-96, with six players in double figures.
The Pacers have got stars. Sure, they aren't LeBron, Chris or Dwayne, but if you said to any GM in basketball: "Would you like Paul George?", they'd bite your hand off.
And also - as the Pacers showed - they are good as a team. They finished the season second in the league in defense, and they choked the Heat in Game 1.
Which is strange, because getting to this match-up, Indiana hasn't exactly been at its best. Atlanta took them to a Game 7 in the first round. They beat Washington in six. And Miami? They've only lost on play-off game, and that was to Brooklyn (they beat Charlotte in 4 and Brooklyn in 5). But if the Pacers are in tip-top shape, then this series is going to be awesome.
Game 2 on Tuesday night is going to be a war. Miami wants to win to avoid going 2-0 down while Indiana could do without dropping a home game before their trip to Florida for Games 3, 4 and 5.
Indiana will be hoping that Wade, who had 27 points last time out, and LeBron, who had 25 and 10 rebounds, are actually supported by more of their starting cast who didn't get out of first gear on Sunday night.
Anyway, this whole series is going to be fun. Who's going to be left at the end? We just don't know.
PREDICTION: This goes seven games. And we're taking Miami.
Western Conference Finals: San Antonio v Oklahoma City
On Monday night, San Antonio put paid to the "this team's pretty old" tag by thrashing the Oklahoma City Thunder 122-109, with oldies Tim Duncan and Manu Ginobili putting on a show.
Getting to this, it wasn't easy for the Spurs who battled Dallas all the way to a deciding Game 7 and then beat Portland more comfortably in 5.
Oklahoma City battled Memphis to 7 in its Round 1, and then more comfortably beat the LA Clippers in Round 2.
But this isn't going to be comfortable for Oklahoma City, who boast two of the country's best players in Kevin Durant and Russell Westbrook. It certainly wasn't on Monday night, when the Spurs managed to put a stopper on everyone except Westbrook and Durant while letting Ginobili score from the bench, and getting four out of five of their starters to hit double figures.
But all series long San Antonio is going to have to deal with Durant, the league's top scorer, and Westbrook, who is averaging 8.1 assists per game. That's the best in these play-offs amongst surviving players. The Thunder is going to have to deal with Duncan, Tony Parker, Kawhi Leonard and Ginobili coming off the bench.
The biggest loss for Oklahoma City may be in their defensive firepower. Serge Ibaka was out of Game 1 with a calf strain and is thought to be out for the rest of the play-offs although Parker didn't believe them on Sunday, and probably won't believe them if the Spurs start putting their rivals into a deeper hole.
Ibaka gives the Thunder such a presence in the paint that Nick Collison - Ibaka's veteran replacement - is going to have to play like a God to stop the Spurs charges.
What might benefit Oklahoma City is San Antonio's injury list. Duncan suffered from a hurt knee in the opening round (although he recovered nicely - but is he 100%?). Parker has a dodgy hamstring. And there's also the fact that as much as these Spurs are battle-tested, will this series going to seven exhaust the band of 30-somethings, playing the Thunder's fresher, younger team?
This is going to be fun.
PREDICTION: Spurs win in six in a cracking series.