'Adam Silver has acted strongly by banning Donald Sterling from the NBA'
Adam Silver has acted powerfully by banning Donald Sterling from the NBA, says Alex Ferguson.
Last Updated: 30/04/14 3:34pm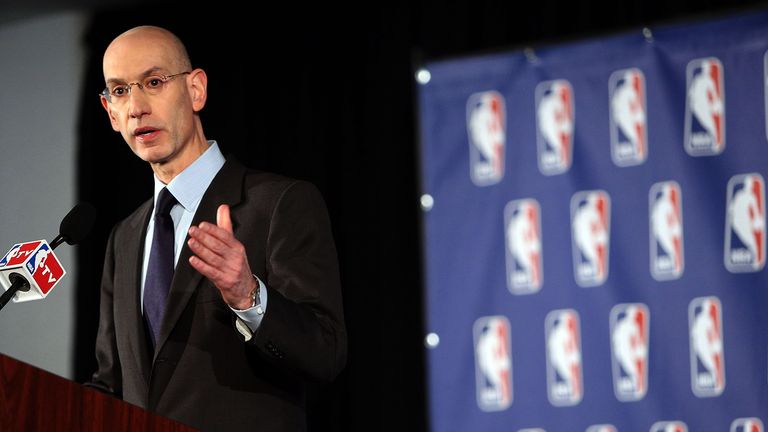 Silver banned Sterling from attending any NBA games, attending any practices, being present at any Clippers office, or getting involved in any of the Clippers' player or personnel decisions.
Oh, and he fined him $2.5m, too.
To provide a bit of background, Sterling has the reputation of being one of the NBA's less likeable owners - and perhaps one of the least likeable in sports (and for years, he had some competition with New York Yankees owner George Steinbrenner).
But it all came to the fore last week when Sterling was recorded telling his Mexican-black girlfriend that he didn't want her bringing black people to games.
"It bothers me a lot that you're associating with black people...do you have to?" Sterling told girlfriend V. Stiviano.
He added, upon being asked why he had that viewpoint bearing in mind that his team's players are mostly black): "I support them and give them food, and clothes, and cars, and houses. Who gives it to them? Does someone else give it to them? Do I know that I have - Who makes the game? Do I make the game, or do they make the game?"
He also went on a tirade about Jewish people (Los Angeles' 660,000-strong Jewish population is the second-biggest in the USA), as well as his girlfriend having black people as 'friends' on her Instagram.
And then he denied being racist.
Protest
The tape of the nine-minute conversation went to US gossip site TMZ, and from there, it absolutely exploded in the media, with rage flying from all corners of the globe at Sterling.
The Miami Heat and LA Clippers protested Sterling by practising with practice shirts backward. It wasn't a big protest in the general scheme of things (a bigger one would have been not playing at all).
Miami's LeBron James, the game's biggest star said: "There's no room for Donald Sterling in the NBA', while Kobe Bryant said that he could "never" play for Sterling.
The legend Michael Jordan said he was "outraged". Magic Johnson said that he would never attend a Clippers game again while Donald Sterling was owner. Kobe Bryant said he could "never" play for Sterling.
Barack Obama even chimed in, saying: "When ignorant folks want to advertise their ignorance, you don't do really have to do anything...You just let them talk."
We would tell you what Snoop Dogg said, but it was so expletive-filled that it's unprintable.
With the pressure on him, new NBA Commissioner Silver had to do something... and he did. The ban was full, and the money was as much as they can fine you for in the NBA. And if Silver HADN'T banned Sterling for life and fined him the NBA maximum fine, then he would have been seen as being weak.
And as American sports know all too well, having a weak or controversial commissioner doesn't exactly make people fall in love with your sport (the NHL is still finding its way back into hearts after a union dispute between players and owners cancelled the 2004-5 season and had a lot of last season cancelled).
Answers
What would have happened if Silver had gone down a quieter path? Would the fans have decided that instead of going to the Staples Centre in noisy protest, they would boycott the team?
And more's the case, would the NBA's biggest corporate partners (Adidas, American Express, Budweiser, Converse, Ford, Pepsi (amongst others) simply refuse to be associated with the sport, and walked? Would the players have decided not to play any more until the Sterling situation was fully sorted?
Thankfully, there are so many questions that were answered when Silver took the right path by making the decision. Unfortunately, he couldn't go one step further and force Sterling to sell the Clippers.
However, he said that he will encourage the owners to force Sterling out. He said: "I will urge the Board of Governors to exercise its authority to force a sale of the team and will do everything in my power to ensure that that happens," he said in Tuesday's press conference.
The NBA's constitution and by-laws dictate that if three-quarters of owners don't want Sterling around, they can terminate an owner's ownership, although that in itself may set off a legal firestorm between Sterling and the NBA.
Until that happens, Sterling might be out to pasture, but he's still counting the pennies.
POST SCRIPT: The Clippers - who voted to stay playing for coach Doc Rivers after they were asked if they wanted to boycott their team - won Game Five of their NBA Play-Off game against Golden State yesterday 113-103 to take a one-game lead in their best-of-seven battle.