Basketball: Alex Ferguson looks ahead to the NBA playoffs
Alex Ferguson previews the NBA playoffs as the Heat and LeBron James take on Michael Jordan's Bobcats.
Last Updated: 18/04/14 8:07am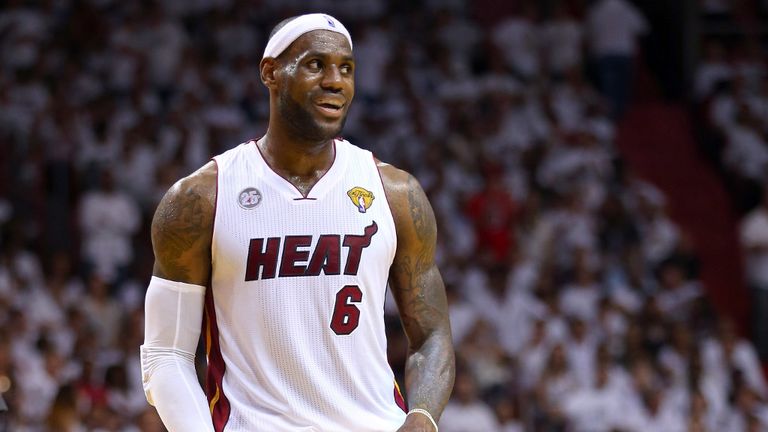 Our US sports expert Alex Ferguson previews Miami's best-of-seven clash with Charlotte and the other seven match-ups that make up the First Round.
EASTERN CONFERENCE
Indiana Pacers (No.1) vs Atlanta Hawks (No.8)
Indiana's a nasty match-up for most teams in the playoffs, but Atlanta had to really battle to the death to get into the postseason this year, so they'll be fine with another war with Indiana.
Indiana have been a guarantee for the postseason almost since the turn of the year and have been playing lethargically of late.
Paul George is the man to watch for Indiana, while David West can give anyone problems. But watch out for Atlanta's Jeff Teague. He's averaged 18.8 points this month and is on fire.
Atlanta split the regular season games with the Pacers 2-2.
PREDICTION: Indiana wins a hard-fought series in SIX
Miami Heat (No.2) vs Charlotte Bobcats (No.7)
It's quite exciting to note that 2014 could be the year for the Charlotte Bobcats to overcome their curse - they are without a playoff win in their history.
However, they are going to have to do it against a darned good Miami team featuring the best player on earth in LeBron James, a Superman in Dwayne Wade and one of the best centres in the game in Chris Bosh.
Charlotte and their legendary owner Michael Jordan will be depending on Al Jefferson to cause Miami trouble on the posts - but really, do they have a hope?
This could be worth watching simply for seeing shots of Michael Jordan eyeballing LeBron James.
PREDICTION: Charlotte gets its first playoff win! But Miami wins 4-1.
Toronto Raptors (No.3) vs Brooklyn Nets (No.6)
If you want 'battle-tested' then look no further than the Brooklyn Nets, for whom Kevin Garnett, Paul Pierce, Joe Johnson and Deron Williams all have playoff experience and will be happy to teach Toronto some lessons about age and treachery beating youth and innocence. They are also red-hot since the turn of the year.
Toronto, on the other hand, aren't going to be shooed away like a young pup. They've got the athleticism - especially in shooting guard DeMar DeRozan and Kyle Lowry to give the Nets fits.
PREDICTION: Walkers win! We're going for Brooklyn in seven.
Chicago Bulls (No.4) vs Washington Wizards (No.5)
Chicago's defence is evil - it only gave up an average of 91.8 points a game this year. It's suffocating.
Joakim Noah is a rebound and blocking machine, and Taj Gibson will help him limit the points in the paint attempts. D.J. Augustin can also shoot - especially from three-point range.
Noah and Gibson are going to have to deal with Washington's duel attack of John Wall and Bradley Beal who have the scoring prowess to trouble them.
If the Chicago pairing aren't on their game, Chi-Town's got problems.
PREDICTION: Bulls win in six hard-fought games.
WESTERN CONFERENCE
San Antonio Spurs (No.1) vs Dallas Mavericks (No.8)
The San Antonio Spurs are the team that no-one wants to face in the playoffs. They are organised, focused and seemingly unfazed by anything thrown at them.
Or maybe that's just Tim Duncan's face. Tony Parker's still bulleting them in from all corners of the court and the Spurs are so damn deep it's frightening.
As for Dallas? Mavs fans are going to be dependent on their hero, Dirk Nowitzki, who's still averaging 21 points a game. Monta Ellis is also great. Mavs fans will be hoping that the regular season game trend doesn't continue - they lost 4-0.
As for us? We can't wait for the playoff rivalry renewed between Duncan and Nowitzki. They've played each other 26 times.
PREDICTION: San Antonio in five. And they'll be kicking themselves, because it probably should have been four.
Oklahoma City Thunder (No.2) vs Memphis Grizzlies (No.7)
Can anyone stop Kevin Durant? All season long, the answer's been 'no' (he's averaged 31.9 points a game).
And Russell Westbrook's back and rested which should worry the Grizzlies. Let's just hope for basketball's sake that Westbrook doesn't have another injury. You wouldn't wish that on anybody, but especially someone as talented yet injury-prone as Westbrook.
What's going to be intriguing about this match-up is that it's offense vs defense. Memphis has the third-best 'D' in the league but don't put up a whole lot of points (27th).
This is going to be a toss-up.
PREDICTION: We're going for Oklahoma City to thunder on in six wonderful games.
LA Clippers (No.3) vs Golden State Warriors (No.6)
If I mention the words 'LA', 'Staples Centre' and 'Playoffs', you'll immediately think of the Lakers, right?
Well, while the Lakers are nowhere to be seen, the LA Clippers are present, lively, and very good. Blake Griffin and Chris Paul are a dynamite duo and going to hurt Golden State all series long.
But on the other side, have you heard of Steph Curry? If you haven't, then make sure you get to watch some of this series. Curry's the best three-point shooter in the league and he's a joy to watch. The guy's got so much game he is Jesus Shuttlesworth (well, he would be if the real Jesus Shuttlesworth - Ray Allen - wasn't still playing with Miami).
The Warriors are really going to miss their defensive star, Andrew Bogut, who has fractured ribs and will be out for the foreseeable future.
PREDICTION: We're calling for LA in five. Curry may be incredible, but the loss of Bogut's going to kill the Warriors.
Houston Rockets (No.4) vs Portland Trail Blazers (No.5)
The Rockets have two superstars in James Harden and Dwight Howard who are really great. We don't like Howard (mainly because of his behaviour when he was at LA) but we do love 'Superman' (as he likes to refer to himself) on the boards.
He can dominate them (25.2 per game). Howard spent late March out with an ankle injury, and Rockets fans will be worrying if it returns.
James Harden? He's got an awesome shot...and an awesome beard. And he averages 25.4 pts per game.
Will Portland's fairly porous 'D' (22nd in the league) be able to match-up with those two? Well, they might not, but LaMarcus Aldridge averages 23.2 points and 11.1 rebounds a game, and Damian Lillard averages 20.7 and 5.6 assists.
The Warriors have been on fire lately, winning their last five regular season game. Houston had better watch out.
PREDICTION: Houston in six in an unexpectedly great series.