Le Bron James will fire Miami Heat to NBA glory, says Alex Ferguson
LeBron James, Miami Heat's 'Mr Everything', will guide his side to the NBA title, says Alex Ferguson.
Last Updated: 04/06/13 6:08pm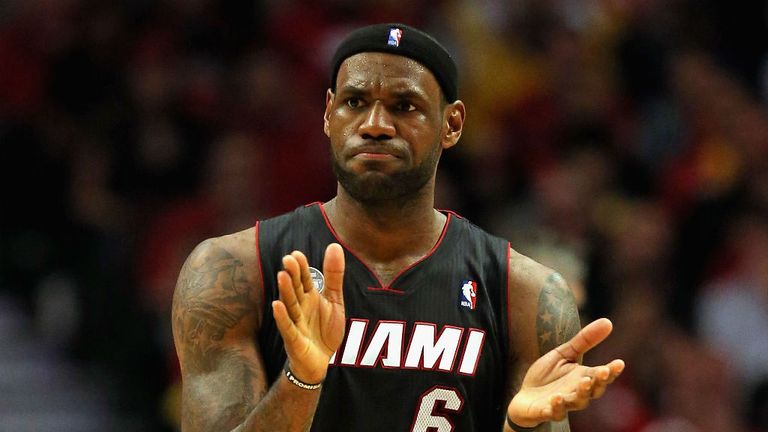 LeBron James and the Miami Heat face off against Tony Parker and the San Antonio Spurs in a best-of-seven series to determine the 2012-13 champions.
Alex Ferguson, our American-sport guru, previews the contest, which will be shown live on Sky Sports...
WHY WILL MIAMI WIN?
Miami didn't simply beat the Indiana Pacers in Game Seven of the Eastern Conference Finals, they flat out destroyed them, running out 99-76 winners to set up a date with Spurs and a return to the Championship game for the third year running.
The Heat have faced up against controversy and the critics, and they've had their fair share of tough series; the Eastern Conference Finals match-up against Indiana, in particular, was a battle for the ages, with Miami taking the lead on three separate occasions and Indiana equalising until the Floridians took the final game.
Miami haven't always looked like the Champion Designate. Dwayne Wade's performances - Game Seven apart - were poor throughout the play-offs, mainly because of an injury but also rumours of a hurt ego to boost, while Chris Bosh has been borderline okay.
And Ray Allen? Did he even appear apart from the final game of the Eastern Conference Finals? The person carrying the team has been LeBron James, who has been Mr Everything for the Heat. He averages 26.2 points and 7.6 rebounds per game. And 6.4 assists. There isn't a team in this league that can stop him - and the Spurs aren't about to start now.
Miami are also got great talent defensively. On top of Bosh, Shane Battier and Chris 'The Birdman' Andersen will cause havoc for any attacking set. And when they play with the vigour that they showed against Indiana in Game Seven, it's hard to see a team that's better than them.
WHY WILL SAN ANTONIO WIN?
The Spurs last played a competitive game on May 27. That game was Game Four of their Western Conference Finals match-up with the Memphis Grizzlies. And they did exactly what they'd done to the Memphis Grizzlies in the previous four games: Beat them. And they beat them soundly in all of them.
San Antonio are going to win because they are incredibly well-coached. Greg Popovich, the Spurs coach, has won four trophies and his record (around .700) in the Finals is one of the best-ever.
Tim Duncan is one of the best forwards in the league, and has been doing it since God was a boy. Tony Parker can shoot from just about anywhere - as he's proved all play-offs long, and he's averaging a tidy 23 points per game.
Oh, and Duncan, Parker and Manu Ginobili are in the Finals for the fourth time in their career - and they are the first trio to do so outside the Lakers or the Celtics.
Plus, if you love talking about supporting cast, then the Spurs' supporting cast - Kawhi Leonard, Tiago Splitter, and Danny Green - are, to quote Dave Matthews, the best of what's around. The Spurs are going to deal with the Heat in their usual fashion. The only fireworks are going to be on the floor.
WHAT'S THE BETTING?
Sky Bet has installed Miami as a 4/9 favourite to take home the title, while San Antonio are 15/8 underdogs. In Game 1 on Thursday night in Miami, Sky Bet is giving the Heat a 5 ½ point handicap. After Monday's destruction of Indiana - when they were just a 7-point favourite - it's not hard to see why.
FERGIE'S FORECAST: Miami in seven in a classic series.