San Antonio and Miami to make NBA Finals, says Alex Ferguson
San Antonio's star-studded squad will fire them into the 2013 NBA Finals, says Alex Ferguson.
Last Updated: 21/05/13 4:45pm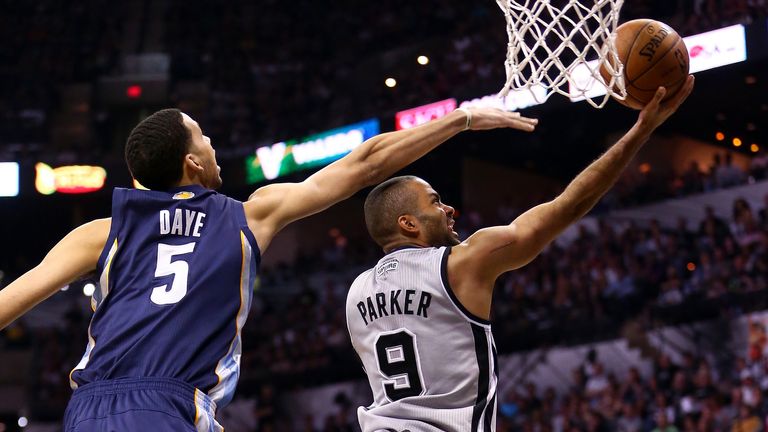 Miami face off against Indiana on Tuesday in Game 1 of the Eastern Conference Finals, while on Saturday evening, San Antonio took a 1-0 lead over Memphis in the Western Conference Finals.
So who will battle through for a Finals place? Our American-sports writer Alex Ferguson previews both match-ups...
EASTERN CONFERENCE FINALS: Miami v Indiana
To those of you who watched the NBA regular season, it shouldn't have been much of a surprise that the Indiana Pacers took out the New York Knicks in their Eastern Conference semi-final match-up on Saturday night. That's because Indiana are a machine.
They are not a flashy, exciting machine massed with star NBA players or future Hall of Famers, but the team that Larry Bird built is definitely a machine, that's for sure. The Knicks never led the series, and were consistently outworked by a Pacers side unwilling to be part of the latest New York story.
Paul George is Indiana's highest scorer, averaging 19.3 points per game, while Roy Hibbert, George and Lance Stephenson can dominate both sides of the boards if given half the chance.
The Pacers know how to play the Heat - they beat them 2-1 in the regular season series and Heat talisman LeBron James played in all three games. But let's be honest, no-one really expects the Pacers to beat the Heat, do they?
The Heat may have struggled a little bit with the Chicago Bulls (the 4-1 Miami win was actually a lot closer than the series score-line suggests), but they are winners and will be more rested than Indiana.
LeBron James is the king of Miami, and he's been brilliant all season long. Although people are talking about the Heat being Dwayne Wade's team, the fact is that James is the star, not Wade (although both are going to the Hall of Fame).
In the play-offs, he's averaging 27.4 points per games. That's the highest of all players from all in the team in the play-offs (same for his assists, too). Then there's Chris Bosh (18.3 pts/game), and Wade himself averages 15.6. Bosh has also been excellent as a rebounder, too.
And when Miami gets on a roll, you simply can't deal with them. You've got Norris Cole shooting lights-out from three-point range. You've got Chris Andersen, the tattooed birdman, who's an excellent defensive player. And God help us all if Ray Allen can click and hit three-pointers, as he's apt to do (although he hasn't had a great play-offs thus far).
Fergie's Forecast: Miami in five
WESTERN CONFERENCE FINALS: San Antonio v Memphis
If Memphis wanted to start their first-ever appearance in the Western Conference Finals well, then maybe they should ask the NBA for a mulligan after the opening match of their series with San Antonio, who destroyed them 105-83 in Game 1.
If the Grizzlies are to progress, they are going to have to find a way to stop Tony Parker and Tim Duncan, as well as Kawhi Leonard and Danny Green. Oh, and there's Manu Ginobili coming off the bench too, which is going to be difficult.
It's funny, because in Game 1, San Antonio's excellence didn't just come from Parker, but they also shot 78% from free-throw range and 52.6% from field goals - completely outclassing Memphis on both of these points.
Memphis just didn't look like the same energised team that bounced Kevin Durant and the Oklahoma City Thunder out of the semi-finals in a convincing 4-1 display (heck, it could have been 4-0 if they hadn't lost on a Durant shot with just two seconds left). They looked tired, unmotivated, and outclassed.
Zach Randolph, who averages over 19 points per game, could muster just two against the Spurs, and the Grizzlies will need him on both ends of the court if they have a hope of progressing. Any good news? Quincy Pondexter, who got 17 points on Saturday, is on fire at the moment.
San Antonio would do well not to ignore them.
Fergie's Forecast: San Antonio in five
Click here for details of our live NBA coverage.