'Jason Collins not good enough player for Washington Wizards'
Jason Collins was brave to come out but is not talented enough for Washington, says Alex Ferguson.
Last Updated: 14/05/13 10:00am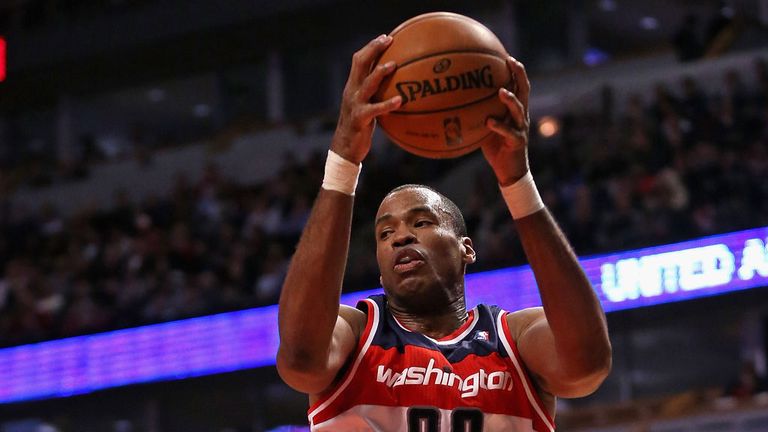 But last week, in an interview with Sports Illustrated, Collins became one of the biggest names in sport after admitting that he was gay.
skysports.com blogger Alex Ferguson looks at the announcement - and whether Collins is good enough to warrant a new contract with the Washington Wizards...
"I'm a 34-year-old NBA center. I'm black. And I'm gay," Jason Collins wrote in this week's Sports Illustrated. "I didn't set out to be the first openly gay athlete playing in a major American team sport. But since I am, I'm happy to start the conversation."
The announcement caused a firestorm. Suddenly ex-partners, team-mates, and anyone who might come up with a comment was brought out into the media. Jerry Stackhouse, Collins' old team-mate, joked that NBA Commissioner David Stern should guarantee the player a contract for next season for this courage.
What's really interesting is the fact that Collins isn't the first player in US history to come out as, according to US magazine 'The Atlantic', it was actually baseball player Glenn Burke, who was openly gay while playing for the Los Angeles Dodgers and Oakland Athletics from 1976 to 1979.
And although the Dodgers - including the team's long-time manager Tommy Lasorda - wanted him to have a 'sham marriage' because they didn't want the ignominy of a gay player in their ranks, Burke continued his crusade.
Billy Martin allegedly introduced Burke with a nasty gay slur in front of his teammates, but Burke soldiered on. As the Atlantic article puts it: "He tried to change sports culture three decades ago-but back then, unlike now, sports culture wasn't ready for a change." Burke passed away in 1995 at the age of just 42.
Also, if you want to say: "Jason Collins is the first-ever gay athlete playing in a major American sport", then completely discount two of America's greatest women tennis players Billie Jean King and Martina Navratilova, who both came out in 1981.
Then there's Brit Jon Amaechi, who came out publically in 2007 in his book "Man In The Middle". But even in 2013, we've had soon-to-be WNBA star Brittney Griner coming out (she's so good that the Dallas Mavericks have even talked, jokingly at least, about drafting her in the 2013 draft), and there's WNBA star Sheryl Swoopes.
So while Collins did a brave thing coming out in this day and age - there actually isn't anyone in the professional leagues right now who has admitted being gay - but he's hardly a trailblazer, even though he is the openly first gay player in the modern era in baseball, the NFL, the NBA, the NHL or NASCAR.
Misnomer
But despite the fact that he's 'first' is somewhat of a misnomer, Collins has had an incredible amount of support from around the world for his actions and everyone from Barack Obama to Ricky Gervais has spoken to him directly or on Twitter about his courage.
NBA legend Shaquille O'Neal have voiced his support, and current NBA superstar Kobe Bryant said: "You don't want to walk around feeling like you're just a shell of yourself. I think him coming out was really brave. As his peers we have to support him, just rally around him and hopefully everybody else comes out and is themselves in who they are."
It was great that American sport could agree on one thing- Jason Collins is a modern-day hero - but, and sorry to sound like a cynic, I don't think that this is going to lead to a flood of "I'm gay" interviews with players from the four major sports.
Last time we looked, there weren't any gay drivers in NASCAR, despite NASCAR Sprint Cup champion Brad Keselowski telling a US website that he didn't think "anyone would care" because it's all about winning races, not sexuality.
But this writer - having been around NASCAR races half a dozen times and lived in the South extensively - doesn't think a driver telling the world that he or she was gay wouldn't exactly score points with fanbase and sponsorship alike. College football, the NFL and baseball could have the same issues.
Could this happen in the Premier League? To some extent, it's already happened with Justin Fashanu back in the 1980s, but now? The fear that a Premier League footballer might have coming out of the closet would be the derogatory stuff chanted to him by opposing - or his own - fans.
But one big question remains: should we really care if a sports player is gay or not, as real sports fans?
Hero
Should a college football fan really care if the quarterback is gay if he throws for 3,000 yards and 25 touchdowns and takes his team to an unbeaten season and a National Championship? Should NBA fans care if someone is gay if they can shoot 95% from beyond the arc?
Should ice hockey players care if their gay player is the next Wayne Gretzky? Should US golf fans care if their next hero is gay, as long as he can beat the damned Europeans in the Ryder Cup? And would Chicago Cubs fans wouldn't care if suddenly their outfielder comes out, as long as he can take them to the World Series that they've been waiting decades to win?
And if we're major sports fans, should Jason Collins get another contract with the Washington Wizards? My argument - as a sports fan - is no. As one writer on Facebook put it: "Jason Collins is hardly the missing link for a Championship".
Collins averaged 1.1 points per game and 1.3 rebounds per game, and played for two teams, the Boston Celtics and the Washington Wizards. For a seven-footer, his career has been distinctly poor, averaging around four rebounds per game and 3.6 points per game.
His form has decreased rebounding-wise since the 2005-6 season. Although some writers have referred to him as the guy who 'shut down Dwight Howard', my argument is that, for a seven-footer, Collins hasn't exactly set the world alight, and in future years, after he was drafted from Stanford with the 18th pick of the first round in 2001, New Jersey Nets fan may think of him as being somewhat of a failure.
The problem the Wizards is that they can't win. If they sign underperforming bit-parter Collins to a contract, cynics will say: "You only signed him because he's gay, and there are much better players than him out there", and if they don't sign him, others will accuse the Wizards of deserting him in his time of need.
I suspect that there will be pressure from all over on the Wizards to sign Collins - if just so the networks have all season to mention Collins and his sexuality.
For me? I wouldn't give Collins a contract, because he hasn't played well this year and there are other more deserving players out there and kids coming through in the draft.